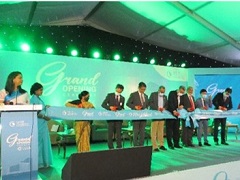 The opening ceremony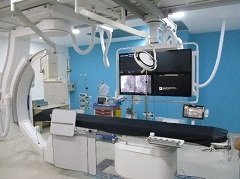 Advanced medical equipment (cardiac surgery)
On June 18, the opening ceremony for Ship International Hospital, established through the East-West Medical College Hospital Project (funded by private sector investment financing), was held in Dhaka, People's Republic of Bangladesh. Bangladesh's Health and Family Welfare Minister Zahid Malik delivered a video message and many Bangladeshi officials were in attendance. Also present from the Japanese side were Ambassador of Japan to Bangladesh ITO Naoki, JICA Senior Vice President NAKAZAWA Keiichiro, and others.

Ship International Hospital was originally scheduled to open as an expansion of East-West Medical College Hospital's existing wards, including a newly constructed annex and service wing. These additions would operate as a private general hospital aimed at providing the people of Bangladesh with medical services of an international standard at a reasonable price, while leveraging upon Japanese hospital administration expertise. However, in light of the rapid spread of COVID-19, the hospital opened in June 2020 ahead of the construction's completion, serving as an emergency facility dedicated to receiving COVID-19 patients in order to meet the area's pressing medical needs, including those of Japanese residents. Since then, regular medical operations have gradually commenced, with 16 departments including internal medicine, general surgery, and a blood bank having opened. The recently held ceremony commemorated the hospital's opening as a general hospital.

Also participating in the project is Green Hospital Supply, Inc., a core business of Ship Healthcare Holdings, Inc., which is active across a wide swath of the Japanese healthcare sector, including medical consulting, the sale and lease of medical equipment, the dispensing of pharmaceuticals, and nursing home management. Green Hospital Supply is taking on this project with a local Bangladeshi partner, supported by JICA's contribution in the form of investment to improve the level of healthcare in Bangladesh. By leveraging upon Green Hospital Supply's network of domestic hospitals and medical professionals, the project aims to impart Japanese hospital administration and medical care expertise onto Ship International Hospital and thereby provide higher quality medical services locally.