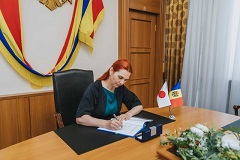 scene from the signing
On June 24, the Japan International Cooperation Agency (JICA) signed a grant agreement with the Government of the Republic of Moldova in Chisinau to provide grant aid of up to 1,549 million yen for the Project for the Improvement of Fire Fighting Equipment.

In Moldova, fire trucks are used not only for firefighting but also for emergency rescue in the event of natural disasters such as floods and traffic accidents. However, the shortage of vehicles deployed by the country's fire brigade and the deterioration of the existing vehicles hinder proper firefighting and rescue activities, leading to a larger scale of damage in the event of a disaster.
Considering this situation, the project aims to contribute to the improvement of security and public services for people living in the cities of Chisinau and Balti, as well as in the provinces of Cahul, Ungheni, and Orhei. It will do so through improving rescue performances at emergency scenes via the procurement of fire-rescue equipment. The project will contribute to the strengthening of Moldova's resilience against disasters, as well as to the achievement of SDGs (Sustainable Development Goals) Goals 11 (Sustainable cities and communities) and 13 (Climate action).

Details for the project are provided below.

[Basic project information]
Country
The Republic of Moldova
Project title
The Project for the Improvement of Fire Fighting Equipment
Planned implementation period
24 months, including detailed design work and the bidding period
Executing agency
General Inspectorate for Emergency Situations
Target region, facilities
Chisinau, Balti, Cahul, Ungheni and Orhei
Specific project details (provisional)
① Facility improvements/equipment procurement
Fire trucks (3,000L water tanks: 3 units, 4,000L water tanks: 4 units, 10,000L water tanks: 2 units), ladder trucks (30m class: 8 units, 50m class: 2 units), spare parts, etc.
② Consulting services
Implementation of detailed design, bidding support and procurement supervision. Training on safety management and firefighting techniques for the firefighters