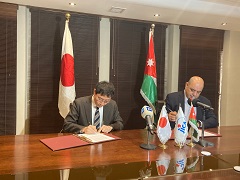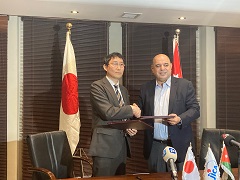 signing ceremony
On July 4, the Japan International Cooperation Agency (JICA) signed a Record of Discussions (R/D) with the Government of the Hashemite Kingdom of Jordan in Amman for the Project for Promoting the Artificial Intelligence Ecosystem, a technical cooperation project.

In Jordan, where over 60% of the population are under 30 years of age, the political situation in neighboring countries and the global impact of the COVID-19 pandemic have resulted in a sluggish domestic economic growth rate and a high level of unemployment. Therefore, the expansion of support for improved employment for young people is an urgent issue not only for the sake of peace and stability in the country, but also for achieving independent and sustainable economic growth.
This project aims to establish an operational platform using an industry-government-academia model to promote the use of AI technology throughout Jordan, thereby contributing to the development of an ecosystem that advances the use of emerging technologies. Leveraging such technologies will vitalize entrepreneurial activities, which in turn will promote the ICT industry and lead to an expansion of employment opportunities. The project will contribute to the achievement of SDGs (Sustainable Development Goals) Goal 9 (Industry, innovation and infrastructure).

Details for the project are provided below.
[Basic project information]

| | |
| --- | --- |
| Country | Hashemite Kingdom of Jordan |
| Project title | The Project for Promoting the Artificial Intelligence Ecosystem |
| Planned implementation period | 36months |
| Executing agency | Ministry of Digital Economy and Entrepreneurship (MoDEE) |
| Target region | All over Jordan |
| Specific project details (provisional) | To strengthen the capacity of MoDEE by establishing a platform to promote the use of AI technology through collaboration among industry, government, and academia as well as by promoting PoC (Proof of Concept) using the platform. |