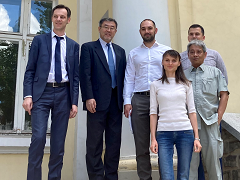 Health care expert (front row, first on the right) and Ministry of Health officials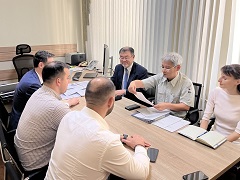 Health care expert explaining the project and exchanging opinions with the Ministry of Health officials
The Japan International Cooperation Agency (JICA) dispatched a health care expert (Mr. UMEMIYA Yosuke, Fujita Planning Co., Ltd.) to the Republic of Moldova, a neighboring country of Ukraine, on July 10, under the technical cooperation project "Medical Equipment Maintenance Capacity Strengthening."

Since 1998, JICA has provided medical equipment to Moldova three times through ODA loans and grant aid, and has implemented the technical cooperation "Project for Improving Medical Device Management" with the objective of establishing an efficient medical device management system. Through this cooperation project, the profession of biomedical engineer, which involves operating and maintaining medical equipment, was introduced to Moldova, and several core hospitals in Chisinau established departments to take charge of managing medical devices.

Meanwhile, the need to strengthen the maintenance and management system of medical equipment in urban and rural areas has increased due to the spread of COVID-19, as various international organizations have provided Moldova with medical equipment to tackle the virus. In addition, the influx of displaced Ukrainians has put a strain on health services in Ukraine, and shortages of medical equipment and spare parts have become particularly acute.

In light of this situation, JICA will dispatch an expert approximately eight times by 2024, including the first dispatch. Through collaboration with the Moldovan Ministry of Health, the National Biomedical Engineering Center of the Technical University of Moldova, and five core hospitals in Chisinau, the project will support the development of guidelines on medical device management and the establishment of training programs for biomedical engineers and other professionals. It aims to strengthen the country's capacity to maintain and manage medical equipment, thereby improving the quality and efficiency of medical services. Furthermore, the project will procure medical equipment and spare parts related to the activities of the health care experts dispatched to the core hospitals, in order to respond to the shortage of medical equipment.

The Moldovan Ministry of Health expressed their appreciation for the supply of medical equipment that will contribute to the provision of medical services to displaced people in Ukraine. In addition, there are high expectations that JICA, the Ministry of Health, and the Technical University of Moldova will work together to formulate and conduct pilot training, and institutionalize a regular training program for biomedical engineers and others.

JICA will support Moldova by utilizing the network that has been cultivated through past cooperation with Moldova in the healthcare field.