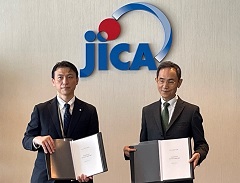 Signing ceremony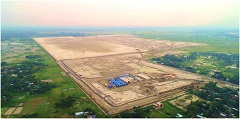 Image of the BSEZ development area
On August 1, the Japan International Cooperation Agency (JICA) signed an Investment Agreement with Bangladesh SEZ Ltd. (BSEZL), a company based in the People's Republic of Bangladesh, BSEZL is a development company whose major shareholders are Sumitomo Corporation and Bangladesh Economic Zones Authority, established for the purpose of developing, selling, and operating the "Bangladesh Special Economic Zone (BSEZ)" near the country's capital of Dhaka.

Bangladesh has a population of 170 million people with an average age of 27.6 years, and is drawing attention as a production base with an abundant labor force and a new major consumer market. In recent years, many foreign companies, including those from Japan, have expanded into Bangladesh. However, factors that hinder investment, such as inadequate infrastructure (electricity, gas, etc.) and complicated administrative procedures, have been identified within the business environment. For this reason, the Bangladesh government is working to promote investment from foreign companies by developing industrial parks as Economic Zones and intensively improving the surrounding infrastructure. Such improvement includes providing a one-stop service that simplifies the procedures for various applications and permits required for new investment and investment expansion, and granting preferential treatment in relation to taxation and other areas, to Economic Zone tenant companies.

The BSEZ is one of the Economic Zones being developed by the Government of Bangladesh. The total development area is approximately 190 ha, located in Araihazar Narayanganj District, approximately 20 km east of the Dhaka city center (about one hour's drive). BSEZL, established in 2019 as a joint venture between Sumitomo Corporation and Bangladesh Economic Zones Authority, is developing industrial land and commenced sales of such land at the end of March 2022, with the expectation that many Japanese companies, mainly in the manufacturing industry, will expand their business into the BSEZ. The development and sale of the BSEZ promoted by JICA's investment in BSEZL will support Bangladesh's industrial sophistication and diversification. It will do so by attracting investment from Japanese and other foreign companies in the BSEZ, and will contribute to SDGs Goals 8 (Decent work and economic growth), 9 (Industry, innovation and infrastructure), and 17 (Partnerships for the goals).

The BSEZ cooperation policy was discussed in a 2014 summit meeting between then Japanese Prime Minister Abe and Bangladeshi Prime Minister Hasina, and its successful implementation is of great importance to both countries. JICA has been supporting the development of the BSEZ in a variety of ways, including by improving the infrastructure around the BSEZ (roads, electricity, gas, etc.) through the provision of Japanese ODA loans since 2015; back-financing the Bangladesh Economic Zones Authority's equity investment in BSEZL; and supporting the establishment of a one-stop service system through technical cooperation since 2017.