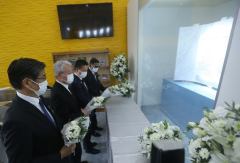 Memorial Ceremony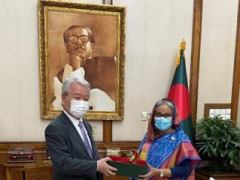 Meeting with Prime Minister Hasina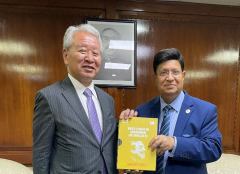 Meeting with Foreign Minister Momen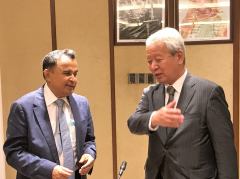 Meeting with Finance Minister Kamal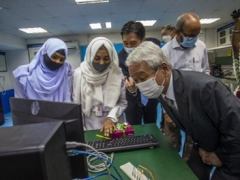 Site visit to Women's Engineering Junior College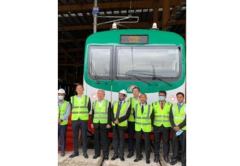 Site visit to Dhaka MRT Line 6 depot
From July 21 to 25, JICA President TANAKA Akihiko visited the People's Republic of Bangladesh. During his stay, he attended a memorial ceremony for the seven people who lost their lives in July 2016 in the terrorist attack in Dhaka (they were engaged in a preparatory study implemented by JICA as part of the Dhaka Mass Rapid Transit Development Project). President Tanaka also had meetings with Prime Minister Sheikh Hasina, Foreign Minister A. K. Abdul Momen, and Finance Minister AHM Mustafa Kamal, and made site visits in Dhaka and Cox's Bazar, including several project sites and camps for the displaced people from Rakhine State in Myanmar. It was President Tanaka's second visit to Bangladesh since June 2014.

The memorial ceremony was held at the depot of Dhaka Mass Rapid Transit (MRT) Line 6 on July 24. In front of the memorial monument established, with the attendance of Bangladeshi and Japanese government officials and representatives of Japanese consulting firms, President Tanaka expressed his deep gratitude to the seven individuals for their contributions to the development of Bangladesh, and promised never to forget their legacy, and to take all possible measures to ensure the future safety. Road, Transport and Bridges Minister Obaidul Quader also participated in the ceremony.

In the meeting with President Tanaka, Prime Minister Hasina expressed her gratitude for JICA's cooperation over the years. They also exchanged views on the possibilities of future cooperation in various fields, including the development of the Moheshkhali and Matarbari areas based on the Bay of Bengal Industrial Growth Belt (BIG-B) Initiative, with a view to the country's graduation from its status as one of the Least Developed Countries (LDC), scheduled for 2026.

President Tanaka, in the meetings with Foreign Minister Momen and Finance Minister Kamal, discussed JICA's cooperation so far and initiatives for further accelerating economic growth, promoting investment toward industrial diversification, and overcoming social vulnerabilities.

President Tanaka inspected the blockchain-based e-voucher system built by the World Food Program (WFP); visited water supply facilities and other facilities that were developed by JICA in the cooperation with the International Organization for Migration (IOM), located in camps in Cox's Bazar for the displaced people from Rakhine State in Myanmar; and also attended the handover ceremony of JICA-funded accommodation facilities for medical workers located in Ukhiya. In addition, he visited the project sites in Matarbari area and found there to be considerable progress in the development of the Moheskhali-Matarbari area. President Tanaka also examined the progress of projects in Dhaka, including the technical cooperation project at Dhaka Women's Polytechnic Institute and the Dhaka Metro Line 6 project.

JICA continues to cooperate with Bangladesh to accelerate its sustainable and equitable economic growth and to alleviate poverty.