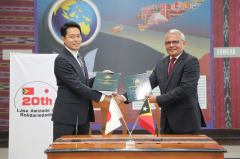 Signing ceremony
On August 16, the Japan International Cooperation Agency (JICA) signed a grant agreement with the Government of the Democratic Republic of Timor-Leste in Dili, to provide grant aid of up to 1 billion yen for The Programme for Urgent Rehabilitation of Flood-damaged Infrastructures.

Under this programme, public services in the capital city and agricultural production infrastructure in rural areas will be restored through the rehabilitation of basic infrastructure and agricultural facilities that were damaged by devastating floods and landslides, which occurred in these areas in April 2021. It is expected that this programme will contribute to the revitalization of livelihoods and the economy in the target areas and the achievement of SDGs Goal 9 (Industry, innovation and infrastructure), 11 (Sustainable cities and communities), and 13 (Climate action).

Details for the project are provided below.

[Basic project information]
Country
Democratic Republic of Timor-Leste
Project title
The Programme for Urgent Rehabilitation of Flood-damaged Infrastructures
Planned implementation period
36 months, including detailed design work and the bidding period


Executing agency
Ministry of Public Works,
Bee Timor-Leste, E.P.,
Ministry of Agriculture and Fisheries
Target region, facilities
Dili, Buluto, Maliana
Specific project details (provisional)
① Facility improvements
・Rehabilitation of Comoro River Retaining Wall
・Rehabilitation of Bemos Water Supply Facility
・Rehabilitation of Buluto and Maliana Irrigation Schemes
② Consulting services
Detailed design work, construction and procurement supervision, environmental monitoring and evaluation etc.