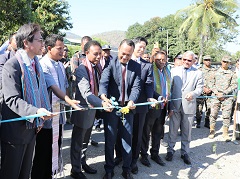 Tape cutting ceremony
On August 26, 2022, an inauguration ceremony was held in Dili, the capital of the Democratic Republic of Timor-Leste, to mark the opening of National Road No.1. The ceremony was attended by Coordinating Minister of Economic Affairs H.E. Joaquim Amaral, Minister of Finance H.E. Rui Augusto Gomes, Minister of Public Works H.E. Abel Pires da Silva, and others from the Timor-Leste side, and Ambassador KINEFUCHI Masami, of the Embassy of Japan in Timor-Leste, and Mr. GOTO Ko, Chief Representative of the JICA Timor-Leste Office, from the Japan side. At the ceremony, Minister of Public Works H.E. Abel Pires da Silva expressed both his hope that National Road No.1 will contribute to the development of Timor-Leste and his appreciation for Japan's cooperation over 20 years.

Timor-Leste is vulnerable to landslides due to its steep mountainous terrain and fragile geology, and roads are blocked during the rainy season, forcing people to wait on the road for long periods of time until the blockages are cleared. The "Strategic Development Plan (2011-2030)", announced in July 2011, calls for the development of paved roads that can be traveled year-round and the construction of a road network for the entire province as a top priority, and the National Road No.1 Upgrading Project was positioned as a top national priority project within the plan.

JICA and the Asian Development Bank cooperated in the rehabilitation of the road (about 116 km in length) between Dili, Timor-Leste's capital city, and Baucau, the country's second largest city , as the first loan project in the country. This section is the busiest stretch of arterial road in the country, but before the project was implemented, the road was only four meters wide and there were many unpaved sections, and the average time it took to drive between Dili and Baucau was five hours. Under this project, the road was repaved and widened to between six and seven meters in accordance with newly established road standards, and drainage facilities and road slope protection walls were constructed.

National Road No.1, the rehabilitation of which was completed through the steady efforts of both Japanese and Timorese officials, will play an important role in the stable growth and development of Timor-Leste. JICA will continue to promote cooperation for the realization of quality growth in Timor-Leste.