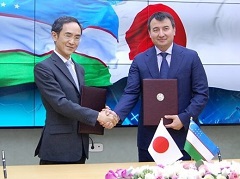 Signing ceremony
On August 29 , the Japan International Cooperation Agency (JICA) signed a loan agreement with the Government of the Republic of Uzbekistan in Tashkent to provide a Japanese ODA loan of up to 200 million US dollars for the Horticulture Value Chain Promotion Project (Phase 2).

The objective of the project is to improve access to finance and strengthen horticulture value chains by supplying funds to horticultural crop growers and agribusinesses (end-users) through accredited participating financial institutions (PFIs), and by providing technical assistance to improve the capacity of the PFIs, end-users and others. This will contribute to the development of the agricultural sector by raising incomes, creating employment opportunities and strengthening the export potential of horticultural crops. The project will contribute to the achievement of SDGs Goal 8 (Decent work and economic growth).

Details for the project are provided below.
Project title
Amount
(million U.S. Dollar)
Annual interest rate (%)
Repayment
period
(years)
Grace
period
(years)
Procurement
Project
Consulting services
Horticulture Value Chain Promotion Project (Phase2)
200
$ Term SOFR+125bp
$ Term SOFR+125bp
15
5
General untied
2. Executing Agency
International Center for Food and Agriculture Strategic Development and Research under the Ministry of Agriculture of the Republic of Uzbekistan
Address: 1A, block"A", Labzak Street, Tashkent, 100128, Uzbekistan
Phone: +998-71-241-51-44、+998-71-241-00-91 FAX:+998-71-241-52-04

3. Planned Implementation Schedule
(1)Completion of project: July 2028 with completion of two-step loan disbursement
(2)Issuing of letters of invitation for consulting services : third quarter of 2024
(3)Although there will be no bidding for construction, procurement is expected to be implemented by the sub-projects funded by intermediary financial institutions.