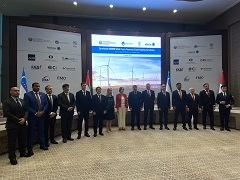 Ceremony in Tashkent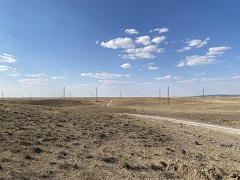 Project Site
The Japan International Cooperation Agency (JICA) signed a loan agreement with Shamol Zarafshan Energy Foreign Enterprise Limited Liability Company, which will implement the Wind Farm Project in the Republic of Uzbekistan. This is the first project in Uzbekistan since the resumption of the Private Sector Investment and Finance scheme and is co-financed with the International Finance Corporation (IFC), the Asian Development Bank (ADB), the European Bank for Reconstruction and Development (EBRD), Natixis, and First Abu Dhabi Bank.

The energy mix of Uzbekistan mainly consists of thermal power generation using abundant, domestically produced natural gas and coal, with thermal power generation and hydropower generation accounting for about 92.5% and about 7.5%, respectively, of its total output of electricity (the International Energy Agency's projection in 2020), and the adverse environmental impact is high. In light of this situation, the government is working on the promotion of renewable energy, with the aim of adhering to the Paris Agreement and increasing the share of renewable energy within the energy mix to 25% by 2030. Furthermore, in Uzbekistan, demand for electricity exceeds supply. This loan will support the accomplishment of these goals and ensure an increase in and stabilization of the electricity supply in Uzbekistan by developing wind power generation facilities. This project will contribute to the achievement of SDGs Goals 7 (Affordable and clean energy), 13 (Climate action), and 17 (Partnerships for the goals).

This is the first large-scale wind farm project (500MW) in Uzbekistan in which both construction and operation are to be carried out by a private company. The Borrower's sponsor, Abu Dhabi Future Energy Company PJSC - Masdar, is one of the largest developers of renewable energy projects in the Middle East. They are active in more than 40 countries and have extensive experience in renewable energy generation. As a result of project financing provided by development finance institutions including JICA, this undertaking is expected to be a model case to attract future investment from private companies in subsequent similar projects, not only in Uzbekistan but also elsewhere in the Central Asia and Caucasus region.