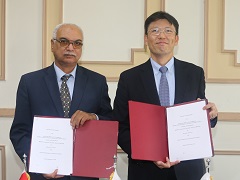 signing ceremony
On September 5, the Japan International Cooperation Agency (JICA) signed a Record of Discussions with the Government of the Arab Republic of Egypt in Cairo for the Improving Small-scale Farmers' Market-oriented Agriculture Project (ISMAP) Phase 2, a technical cooperation project.

Agriculture in Egypt - a country with a growing population - is positioned as an important sector in terms of food supply and employment security. As the poverty level among rural farmers remains high, it is crucial for the Egyptian government to raise agricultural productivity and improve farmers' incomes and living standards, with the aim of mitigating poverty and reducing the rural-urban income gap. Small-scale farmers, in particular, are vulnerable to the risks of food crises caused by climate change and disruption of global commodity market.

With the ultimate goal of improving the livelihoods of rural communities, the project aims to modify and implement an existing agricultural extension method known as the ISMAP approach [*], which can be applied nationwide, in cooperation with relevant organizations and programs, such as the Haya Kareema (Decent Life) Presidential Initiative, in three governorates in Upper Egypt, namely Assiut, Minia, and Sohag, in addition to one of the governorates in the Delta Region. The project will contribute to the achievement of the SDGs (Sustainable Development Goals) Goals 1 (No poverty), 2 (Zero hunger), and 5 (Gender equality). What is more, it is expected that the project will lead to small-scale farmers' enhanced resilience and ability to adapt to the difficulties in these regions.

*The Improving Small-scale Farmers' Market-oriented Agriculture Project (ISMAP) approach, promoted by Egypt's Ministry of Agriculture and Land Reclamation (MALR) and JICA, is the agricultural extension method based on the SHEP (Smallholder Horticulture Empowerment and Promotion) approach that transforms farmers' mindsets from "grow and sell" to "grow to sell."

Details for the project are provided below.
[Basic project information]

| | |
| --- | --- |
| Country | Arab Republic of Egypt |
| Project title | Improving Small-scale Farmers' Market-oriented Agriculture Project Phase 2 |
| Planned implementation period | 48 months |
| Executing agency | Ministry of Agriculture and Land Reclamation |
| Target region | Assiut governorate, Minia governorate, Sohag governorate, and Delta area (candidate: Dakahlia governorate) |
| Specific project details (provisional) | Based on the achievements and challenges of existing extension approaches, the project aims to establish a nationwide ISMAP approach that contributes to improving the livelihoods of small-scale farmers through cooperation with relevant organizations and programs. |