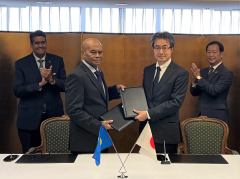 Signing ceremony
On September 8, the Japan International Cooperation Agency (JICA) signed a grant agreement with the Government of the Republic of Palau to provide grant aid of up to 2,140 million yen for the Project for the Development of Power Transmission Network.

Under this project, the sustainability of the power supply will be improved through construction and rehabilitation of substations and transmission lines. It is expected that this project will facilitate social and economic development and accelerate the use of renewable energy in Palau. This project will contribute to the achievement of SDGs Goals 7 (Affordable and clean energy) and 13 (Climate action).

Details for the project are provided below.
[Basic project information]
Country
The Republic of Palau
Project title
The Project for the Development of Power Transmission Network
Planned implementation period
36 months, including detailed design work and the bidding period
Executing agency
Palau Public Utilities Corporation
Target region, facilities
Islands of Babeldaob and Koror
Specific project details (provisional)
Facility improvements/equipment procurement
Construction of transmission/distribution facilities
Procurement and installation of transmission/distribution facilities
Consulting services
Detailed design work, bidding assistance, construction/procurement supervision