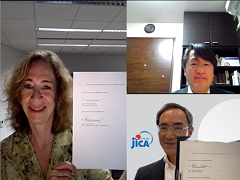 signing ceremony
On September 7 (Japan Time), the Japan International Cooperation Agency (JICA) renewed its Memorandum of Cooperation (MOC) with the International Finance Corporation (IFC)* to promote co-financing for the private sector in developing countries. The signing took place online between JICA Senior Vice President NAKAZAWA Keiichiro and IFC Regional Vice President Ruth Horowitz.

The role of the private sector in the socioeconomic development of developing countries is growing every year. For example, the breakdown of recent financial inflows to developing countries shows that private financing has greatly exceeded public financing (including ODA). Also, technological innovation and digitalization have expanded both business opportunities for companies and the scope for the private sector to use its knowledge to solve development issues in developing countries. On the other hand, epidemics and international instability are affecting the social economies of these countries, which continue to face enormous development demands.

JICA and the IFC signed a Master Cooperation Agreement (MCA) in April 2015 and a Memorandum of Cooperation (MOC) in May 2017 to address the development needs of developing countries. In particular, the MOC focused on deepening cooperation and collaboration in the area of co-financing. This included measures to strengthen cooperation in the process of structuring and reviewing projects, such as harmonizing the review procedures of both institutions for co-investment projects and enhancing communication through regular consultations. The MOC also aimed to increase the total amount of co-investment loans to US$1.5 billion over five years. By May 2022, JICA and the IFC achieved a total co-investment of approximately $1.64 billion, meeting the MOC's goal.

The renewed MOC, in addition to establishing a total target of $1.5 billion in co-investment over the next five-year period, also sets out areas of cooperation, including the promotion of digitalization and gender equality, and seeks to strengthen collaboration from the early stages of project development.

JICA will continue to respond to the financing needs of the private sector in developing countries, while working closely with other development financial institutions, such as the IFC, to help solve development challenges.

* IFC
The IFC, a member of the World Bank Group, is one of the largest global development institutions focused on assisting the private sector in emerging markets. The IFC supports private companies in approximately 100 countries around the world to help eradicate extreme poverty and boost shared prosperity.