On August 28, at the 8th Tokyo International Conference on African Development (TICAD8) held in Tunis, Tunisia, the Japan International Cooperation Agency (JICA) concluded a Statement of Intent (SOI) with the Japan External Trade Organization (JETRO), the United Nations Development Programme (UNDP), and the United Nations Industrial Development Organization (UNIDO) to further strengthen cooperation among the four organizations and boost support for business partnerships and investment in Africa. In attendance were JICA President Tanaka Akihiko; Mr. Sasaki Nobuhiko, CEO & Chairman of JETRO; Mr. Achim Steiner, Administrator of UNDP; and Mr. Yasunaga Yuko, Managing Director (Directorate of Corporate Services and Operations) of UNIDO.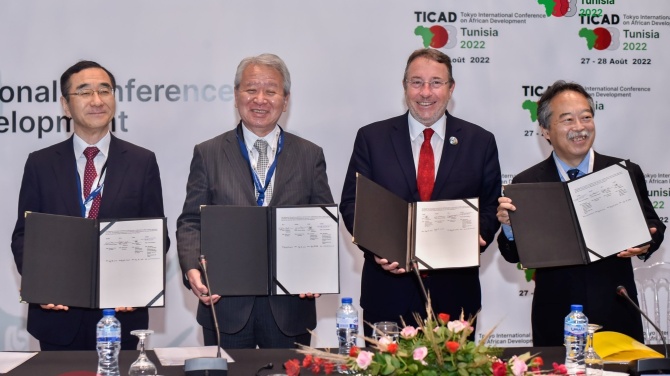 JICA concluded a SOI with JETRO and UNDP at TICAD7 in 2019 for business cooperation with the three organizations that aims to boost support for business partnerships and investment in Africa. In the three years leading up to 2022, the partnership conducted Africa seminars for Japanese companies and provided support for Japanese Small-and-Medium Enterprises (SMEs) seeking business opportunities in the African market. At TICAD8, the new SOI for business cooperation was concluded that newly welcomes UNIDO, which has abundant experience and achievements in industrial development in developing countries.

In the event, President Tanaka stressed, "the private sector is critical to overcome challenges and realize long-term, resilient and sustainable development in African countries facing multiple compound crises today." He further noted that "under the collaborative framework among four organizations that this SOI represents, JICA will realize the solidarity of the international community and work together toward building back better from the compound crises that Africa is facing."

The four organizations have agreed to work closely to strengthen links between SMEs in Africa and the technologies and business know-how of Japanese companies. To achieve this, they will further promote partnerships mainly in the following areas:

[Expected outcomes of the collaboration among the four organizations]
- Contributions to Africa's economic and social development through support for innovation and start-ups.
- Contributions to an accelerated private sector development in Africa, including through Japanese private sector's enhanced engagement, with a focus on SMEs.

[Main contents of partnerships in the SOI]
- Co-sponsoring of seminars, symposiums, workshops, etc., and issuing of joint press releases.
- Matching of opportunities and challenges in Africa with technologies and services of Japanese companies (especially SMEs).
- Promotion of innovation by entrepreneurs and start-ups in both Japan and Africa.
- Regular dialogue, consultation, and information exchange.