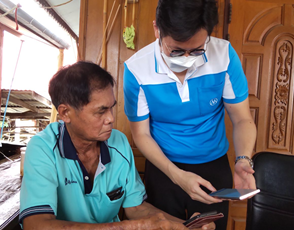 An MTC management (right) explains MTC's mobile app to a customer.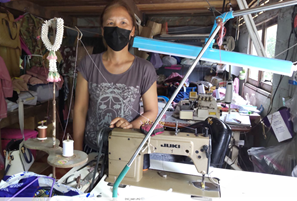 MTC Land Title Loan Client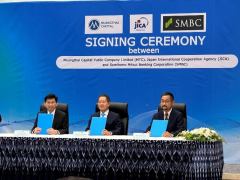 Signing Ceremony
On September 27, the Japan International Cooperation Agency (JICA) signed a 9.9 billion yen loan agreement with Muangthai Capital Public Company Limited (MTC) in Thailand to provide a fund for low-income groups such as farmers, small businesses, and individuals in the country through Private Sector Investment and Finance (PSIF), and had a signing ceremony in Bangkok on September 29. The loan is in line with the "Initiative on Overseas Loan and Investment for ASEAN" announced by the Government of Japan in 2019, and is implemented under the "Facility for Accelerating Financial Inclusion in Asia: FAIA". In addition, the loan is co-financed by the Sumitomo Mitsui Banking Corporation (SMBC).

The impacts of the COVID-19 pandemic have reduced the income of more than 70% of households in Thailand since March 2020, of which about 80% are low-income families in rural areas. In Thailand, there is a large economic disparity between the Bangkok metropolitan area and rural areas. Whilst the poverty rate in Bangkok is less than 2%, those in the northern, northeastern, and southern areas all exceed 12%, and the gap between these regions has been growing, especially since 2016. In addition to COVID-19, the agricultural sector's income has been negatively impacted by higher fertilizer prices as a result of the situation in Ukraine. About half of farmers have experienced a 50% or more decline in income. The average monthly income of the agricultural sector is 6,000 baht (about 23,000 yen), while that of all sectors is 14,000 baht (approximately 54,000 yen), demonstrating a large disparity by sector. Another challenge is the limited access to financing for small and micro businesses, with about 60% of these unable to obtain loans from financial institutions.

MTC, the borrower, is a non-bank financial institution with the top market share of motorcycle title loans in Thailand, and offers a variety of other loans such as automobile title loans, agricultural vehicle title loans, the land title loans often utilized by farmers, nano loans for small businesses, and personal loans. The company's management policy is to provide transparent financial services with fair interest rates to customers who would otherwise have limited access to finance. More than 60% of its customers are low-income individuals, and approximately 65% are residents of low-income areas in the northern, northeastern, and southern regions of the country.

By providing long-term loans to MTC, this project aims to promote access to finance for low-income people such as farmers, micro business owners, and individuals, thereby contributing to the alleviation of economic disparities and to sustainable economic growth. The project will align with SDGs (Sustainable Development Goals) 1 (No Poverty), 10 (Reduced Inequalities), and 17 (Partnerships for the Goals).

On March 30, 2021, JICA and SMBC launched the SMBC-JICA Sustainable Finance (*1) Framework—aimed at improving borrowers' sustainable businesses—under which the above-mentioned loan agreement falls. The framework will utilize JICA's experience as a development finance institution to identify development challenges and implement both project monitoring and project impact evaluation. This framework will adopt the common impact evaluation and monitoring methods for the co-finance project, and the two parties will share and manage the results mutually. By incorporating such elements, the framework will align with internationally recognized guidelines and principles for achieving the SDGs (*2), and will receive a third-party review to confirm this alignment. Through the framework, JICA will further collaborate with SMBC, mobilize more private funds for developing countries and regions, and contribute to the socio-economic development of said countries.

(*1) Sustainable Finance: This refers to the utilization of financial services integrating environmental, social, and governance (ESG) considerations into investment decisions, leading to sustainable economic and social resolutions.
(*2) Guidelines and principles for achieving the SDGs: Green Bond Principles, Social Bond Principles, Sustainability Bond Guidelines established by the International Capital Market Association, and Green Loan Principles and Sustainability Linked Loan Principles established by the Loan Market Association.