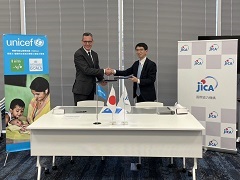 Signing Ceremony
On October 18, the Japan International Cooperation Agency (JICA) signed a grant agreement with the United Nations Children's Fund (UNICEF) to provide grant aid of up to 749 million yen for the Project for Enhancing the Health System through the Improvement of Cold Chain Equipment.

Since the political unrest in August 2021, the people of Afghanistan have faced unprecedented economic and humanitarian crises, including poverty and a shortage of food and medicine. Thus, support from the international community is essential. In the health sector, the first case of COVID-19 was reported in February 2020, and there have been around 200,000 confirmed cases and over 7,800 deaths as of October 2022. However, the actual figures are estimated to be even higher due to inadequacies in the testing and reporting system. Moreover, immunization demand is rising as a result of an increase in other infectious diseases including measles. On the other hand, there are many challenges surrounding immunization within the country. For example, there is a lack of necessary equipment to maintain the appropriate temperature for vaccines during storage and transportation, such as insulated vehicles and cold rooms—and the equipment that does exist is deteriorating—as well as a lack of electricity in healthcare facilities. Moreover, there is a gap in access to vaccination based on both region and gender.

This project will ensure the sustainable implementation of vaccination against infectious diseases including COVID-19 through the procurement and installation of equipment for storing and distributing vaccines, as well as of a solar power system for vaccination facilities, and the implementation of awareness-raising activities on vaccination. By doing so, this project will contribute not only to the prevention of the spread of infectious diseases in Afghanistan, but also to SDGs (Sustainable Development Goals) Goal 3 (Good health and well-being).

This project will enable the vaccination against COVID-19 of 24.6 million people and the routine immunization of 8 million children under the age of five.

Details for the project are provided below.
[Basic project information]
Country
The Islamic Republic of Afghanistan
Project title
The Project for Enhancing the Health System through the Improvement of Cold Chain Equipment
Planned implementation period
12 months
Executing agency
UNICEF
Target region, facilities
Entire Afghanistan
Specific project details (provisional)
(1)Procurement and installation of equipment
Insulated vehicles, cold rooms and generators, equipment necessary for storing and distributing vaccines, and a solar power system for vaccination facilities
(2)Training activities
Awareness-raising activities on vaccination and technical support for maintenance of the equipment