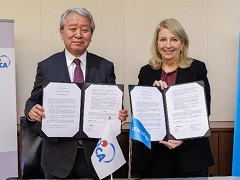 Signing Ceremony
On November 2, the Japanese International Cooperation Agency (JICA) renewed its Memorandum of Cooperation (MoC) with the United Nations Children's Fund (UNICEF), first signed in July 2019.

At the signing ceremony, JICA President Tanaka Akihiko thanked UNICEF for its longstanding partnership in the areas of health, nutrition, education, water, sanitation and hygiene, and empowerment and protection - the target areas of cooperation set in the previous MoC. In addition to these areas, innovation, disaster reduction, and the promotion of South-South cooperation have been newly added to the renewed MoC. President Tanaka also stated that JICA would like to explore the possibility of collaboration in the new areas and make efforts to enhance development synergy.

In response, UNICEF Executive Director Catherine Russell commented that UNICEF appreciates JICA's cooperation, and that, nowadays, children across the globe are struggling to navigate an unprecedented array of crises such as conflicts, climate change, and the socioeconomic consequences of the COVID-19 pandemic, and are thus in urgent need of assistance. Ms. Russell went on to state that UNICEF would like to further deepen cooperation with JICA to leverage each other's strengths toward helping such children.

At the country level, UNICEF and JICA have worked together in at least 25 countries over the last three years in various areas, such as the promotion of maternal and child health handbooks (Afghanistan, Burundi etc.); strengthening of the cold chain (Viet Nam, Sierra Leone etc.); alleviation of malnutrition (Ethiopia); and non-formal education (Pakistan), among others. At the global level, UNICEF and JICA have collaborated to develop implementation guidelines with WHO for household health records, including maternal and child-health handbooks and other home-based records. UNICEF is also one of the core members of the steering committee of the Initiative for Food and Nutrition Security in Africa (IFNA), a JICA-supported nutrition initiative.

JICA will promote further collaboration with UNICEF to achieve impactful development results and contribute to both the achievement of the Sustainable Development Goals (SDGs) and the realization of human security.