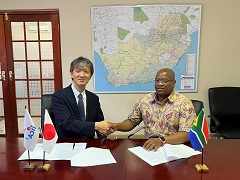 Signing Ceremony
On October 27, the Japan International Cooperation Agency (JICA) signed a Record of Discussions with the Government of the Republic of South Africa in Pretoria for the Project for Capacity Development on Smooth Operation of OSBPs* on the North-South Transport Corridor, a technical cooperation project.

The project aims to improve customs clearance procedures at the targeted OSBPs located on the North-South Transport Corridor and reduce labor/economic costs as well as the transportation time for border crossing. By doing so, it will stimulate investment and promote trade facilitation in the Southern Africa region. The project will contribute to the achievement of SDGs (Sustainable Development Goals) Goal 8 (Decent work and economic growth).

JICA has been committed to introducing and operationalizing OSBPs and modernizing customs administrations in the East Africa region for a long time. Hence, this project has been planned based on the vast experience acquired via these activities in East Africa. For example, customs officers involved in this project are expected to visit and observe border facilities in the East Africa region, which are already well operationalized and will be able to share past achievements for utilization in this project.

* The term OSBP (One Stop Border Post) refers to the legal and institutional framework, facilities, and associated procedures that enable goods, people, and vehicles to stop in a single facility in which they undergo necessary controls, following applicable regional and national laws to exit one state and enter the adjoining state.

Details for the project are provided below.

[Basic project information]

| | |
| --- | --- |
| Country | Republic of Botswana, Republic of South Africa, Republic of Zambia, Republic of Zimbabwe |
| Project title | The Project for Capacity Development on Smooth Operation of OSBPs on the North-South Transport Corridor |
| Planned implementation period | December 2020 to March 2025 (52 months) |
| Executing agency | Botswana Unified Revenue Service (BURS), South Africa Border Management Authority (BMA), Zambia Revenue Authority (ZRA), Zimbabwe Revenue Authority (ZIMRA) |
| Target region | Targeted OSBP sites (Beitbridge<South Africa-Zimbabwe>, Chirundu<Zambia-Zimbabwe>, Kazungula<Zambia-Botswana>) and selected sections and offices of the implementing agencies in the respective partner countries |
| Specific project details (provisional) | Developing the JICA OSBP Procedure Manuals and strengthening the capacity of customs administrations at each border of the project sites. |