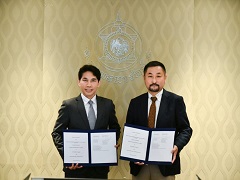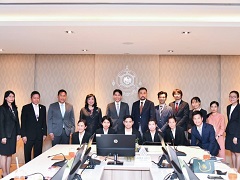 Signing Ceremony
On October 25, the Japan International Cooperation Agency (JICA) signed a Record of Discussions with the Government of the Kingdom of Thailand for the Project for Enhancement of Property Valuation Capacity in Thailand, a technical cooperation project.

In Thailand, the Land and Buildings Tax Act was enforced in 2019, changing the tax base to that of the assessed value of property. However, when making such assessments, there have been challenges in the areas of objectivity and transparency of valuation standards, property data, and the training environment.

Considering these circumstances, this project aims to enhance the efficiency and accuracy of property valuation through the improvement of related operations in Thailand's Property Valuation Standards Division (PVSD), Treasury Department, Ministry of Finance. In addition, this project will contribute to SDGs (Sustainable Development Goals) Goals 10 (Reduced inequalities) and 17 (Partnerships for the goals).

Details for the project are provided below.

[Basic project information]

| | |
| --- | --- |
| Country | Kingdom of Thailand |
| Project title | Project for Enhancement of Property Valuation Capacity in Thailand |
| Planned implementation period | 36 months |
| Executing agency | Treasury Department, Ministry of Finance |
| Target region | Areas of municipalities in Thailand where pilot activities will be conducted. |
| Specific project details (provisional) | Enhance the efficiency and accuracy of property valuation by improving the operational manuals, IT systems, and training environment of the PVSD. |