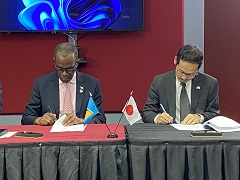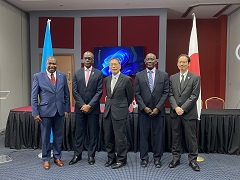 Signing Ceremony
On November 10, the Japan International Cooperation Agency (JICA) signed a grant agreement with the Government of Saint Lucia in Castries to provide grant aid of up to 1,263 million yen for the Project for the Improvement of Choiseul Fishing Port.

The fisheries sector is a significant industry for Saint Lucia, one of the small island countries in the Caribbean region. Japan has been cooperating in the development of the fisheries sector in Sant Lucia for many years. The Choiseul Fishing Port, located in southwestern Saint Lucia, was constructed using Japanese grant aid in 2001 and had been used as the country's main fishing port. However, sedimentation at the entrance to the port and elsewhere has been interfering with fishing boat entry and landing work.

The objective of the project is to enhance the usability of the Choiseul Fishing Port by improving facilities such as sand embankments to reduce the current sedimentation, thereby contributing to the development of the fisheries sector in Saint Lucia.
This project will contribute to the achievement of SDGs Goals 1 (No poverty), 2 (Zero hunger), and 14 (Life below water).

[Basic project information]
Country
Saint Lucia
Project title
The Project for the Improvement of Choiseul Fishing Port
Planned implementation period
54 months, including detailed design work and the bidding period
Executing agency
Ministry of Agriculture, Fisheries, Food Security and Rural Development, the Fisheries Department
Target region, facilities
Choiseul
Specific project details (provisional)
①Facility improvements/equipment procurement
Groin (about 55m), submerged breakwater (about 20m), dredging (about 9,500m3)
②Consulting services
Detailed design work, bidding assistance, construction/procurement supervision, monitoring, analysis, and measurement of sedimentation after completion
③Implementation of modification construction based on monitoring of sedimentation