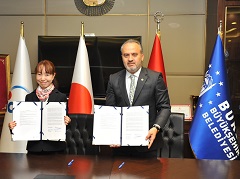 Signing Ceremony for the Project for Earthquake Risk Reduction and Prevention Planning for Bursa Metropolitan Municipality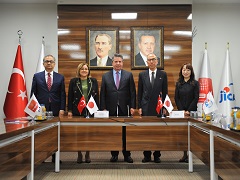 Signing Ceremony for the Local Authorities Capacity Building for Waste Management, Pollution Control, and Disaster Management and Response Project
The Japan International Cooperation Agency (JICA) will implement three technical cooperation projects in the field of disaster risk reduction in the Republic of Türkiye.

On November 18, 2022, JICA signed a Record of Discussions (R/D) with the Government of the Republic of Türkiye for the Project for Earthquake Risk Reduction and Prevention Planning for the Bursa Metropolitan Municipality, a technical cooperation project.

The project aims to create a system that promotes investment in disaster risk reduction to achieve urban resilience in the Bursa Metropolitan Municipality. It will do so by implementing hazard and risk-assessment and supporting the development of an urban resilience plan, including disaster prevention measures.

Prior to this project, on November 9, 2022, an R/D on the "Local Authorities Capacity Building for Waste Management, Pollution Control, and Disaster Management and Response Project," a technical cooperation project that aims to support local governments in the formulation of disaster-risk-reduction and solid-waste-management plans, and the improvement of project-implementation capacity, was signed by both parties.

In addition, the signing of an R/D on "The Project for Establishment of a Research and Education Complex for Developing Disaster-resilient Societies - Martest" (Science and Technology Research Partnership for Sustainable Development: SATREPS) project, which aims to provide essential research and education services for the development of disaster resilient societies, will be carried out in December.

These projects will contribute to the achievement of SDGs (Sustainable Development Goals) Goal 11 (Sustainable cities and communities).

It remains a challenge for us to predict the occurrence and the magnitude of disasters with precision, but it is important to understand and reduce the risk in advance based on scientific knowledge in order to minimize the impact of said disasters.

From the 1990s, JICA has supported the development of seismic-engineering and earthquake-observation technology, disaster risk reduction planning, and disaster risk reduction education, etc. in Türkiye. Utilizing the outcome of the past cooperation, JICA will continue to support the further improvement of governance for disaster risk reduction and the promotion of investment in this field, thereby contributing to the strengthening of urban resilience in Türkiye.

Details for the project are provided below.
[Basic project information]

| | |
| --- | --- |
| Country | Republic of Türkiye |
| Project title | Project for Earthquake Risk Reduction and Prevention Planning for Bursa Metropolitan Municipality |
| Planned implementation period | 42 months |
| Executing agency | Bursa Metropolitan Municipality |
| Target region | Bursa Metropolitan City |
| Specific project details (provisional) | This project aims to promote investment in disaster risk reduction to achieve urban resilience in the Bursa Metropolitan Municipality by implementing hazard and risk-assessment awareness and supporting the development of the Urban Resilience Plan. |