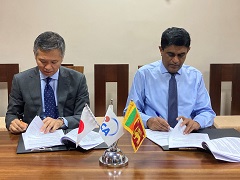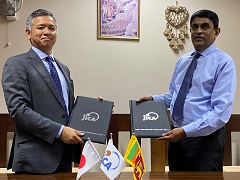 Signing Ceremony
On November 23, the Japan International Cooperation Agency (JICA) signed a Record of Discussions with the Government of the Democratic Socialist Republic of Sri Lanka in Colombo for the Project for Women's Economic Empowerment through Entrepreneurship, Leadership and Networking, a technical cooperation project.

In Sri Lanka, the lives of women and girls have been severely affected by the COVID-19 pandemic and recent economic crisis, and many women have struggled to maintain their livelihoods. Underlying this situation is a background of inequality, with social gender norms that restrict women's access to employment opportunities and limit their participation in decision-making processes within both the home and the community. Therefore, action is required not only to provide economic support to women, but also to respond to gender issues and promote the transformation of families and communities, realizing a safe working environment and allowing women's participation in decision-making processes. Such action will ultimately seek to achieve women's economic empowerment.

The project aims to institutionalize its model for women's economic empowerment through entrepreneurship development and the enhancement of women's leadership and networking capabilities in Ampara and Monaragala Districts of Sri Lanka. The project will contribute to the achievement of SDGs (Sustainable Development Goals) Goals 1 (No poverty) and 5 (Gender equality).

Details for the project are provided below.

[Basic project information]

| | |
| --- | --- |
| Country | Democratic Socialist Republic of Sri Lanka |
| Project title | The Project for Women's Economic Empowerment through Entrepreneurship, Leadership and Networking |
| Planned implementation period | 48 months |
| Executing agency | Ministry of Women, Child Affairs and Social Empowerment |
| Target region | Colombo, Ampara District and Monaragala District |
| Specific project details (provisional) | To institutionalize the project model for women's economic empowerment through entrepreneurship development and the enhancement of women's leadership and networking capabilities by implementing pilot activities such as business-skills training, service and product development, and cooperation with business partners in Ampara and Monaragala Districts, as well as capacity development of the Ministry of Women, Child Affairs and Social Empowerment, thereby contributing to the expansion of the model to areas beyond the project's target districts in Sri Lanka. |