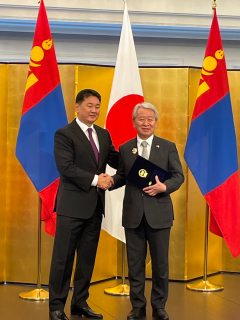 Conferment ceremony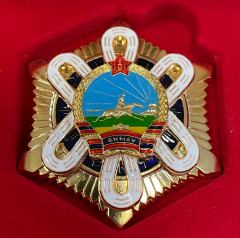 The Order of the Polar Star
JICA President Tanaka Akihiko received the Order of the Polar Star, the highest medal awarded to a foreigner by the Government of Mongolia.
The conferment ceremony was held in Tokyo on November 29, and the order was awarded by President of Mongolia Ukhnaa Khurelsukh.

The order is awarded to those who have contributed to the fields of society, economy, science, technology, culture, education, and health. President Tanaka received the order in recognition of JICA's high level of contribution to the development of Mongolia.

President Khurelsukh congratulated President Tanaka, saying that Japan, as Mongolia's "third neighbor," is the country's most reliable partner, and that JICA's cooperation has reached every Mongolian citizen. He also noted that the role that JICA has been playing in bilateral relations between their countries thus far has been very significant, and therefore will not be changed in the future.

In response, President Tanaka expressed his gratitude for the high recognition Japanese ODA and JICA projects have received. He concluded that he is convinced that the friendly relationship between Japan and Mongolia will only get stronger.