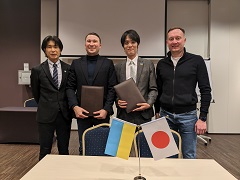 Signing Ceremony
On November 29, the Japan International Cooperation Agency (JICA) signed a Record of Discussions with the joint-stock company "Public Broadcasting Company of Ukraine" (JSC "UA:PBC"/Suspilne) in Rzeszow, Poland for the Project for Capacity Development of Public Service Broadcaster of Ukraine Phase 2, a technical cooperation project.

JSC "UA:PBC" was established in January 2017 through the integration of TV and radio stations nationwide. JICA had already been supporting JSC "UA:PBC," which aims to become a public broadcaster trusted by the people, under phase 1 of the project for Capacity Development of Public Service Broadcaster of Ukraine, from 2017 to March 2022. Phase 1 focused on program production that would meet the diverse needs of the public, the efficient operation of broadcasting equipment, and the establishment of an emergency reporting system for disasters and other emergencies.

Phase 2 of the project will work on strengthening the function of major regional branches of JSC "UA:PBC," following the system of NHK (Japan Broadcasting Corporation) as a model, to ensure uninterrupted delivery of accurate, impartial, and fair information to the people of Ukraine. Specifically, a backup center will be established to replace the main broadcasting center in Kyiv in the event of emergencies such as natural disasters, war, and terrorism. This phase of the project will also establish a network in which major regional branch offices function as regional hubs to support smaller branch offices.

This project will contribute to the achievement of SDGs (Sustainable Development Goals) Goal 16 (Peace, justice and strong institutions).
[Basic project information]

| | |
| --- | --- |
| Country | Ukraine |
| Project title | The Project for Capacity Development of Public Service Broadcaster of Ukraine Phase2 |
| Planned implementation period | 3 years |
| Executing agency | Joint-stock company "Public Broadcasting Company of Ukraine" (JSC "UA:PBC"/Suspilne) |
| Target region | Central Directorate (Kyiv) and the regional branch offices of JSC "UA:PBC" |
| Specific project details (provisional) | To ensure the uninterrupted delivery of accurate, impartial, and fair information to the public through the establishment of a backup center and regional hubs of JSC "UA:PBC". |