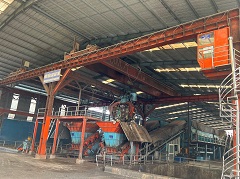 Project site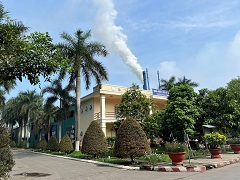 Project site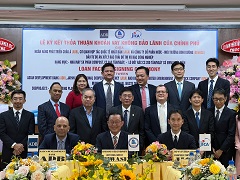 Signing ceremony
On December 9, the Japan International Cooperation Agency (JICA) signed a US$7 million loan agreement with Binh Duong Water Environment Joint Stock Company ("BIWASE") in Vietnam. This loan is in line with the "Initiative on Overseas Loan and Investment for ASEAN" (*1) announced by the Government of Japan in November 2019, and is co-financed by the Asian Development Bank (ADB). The US$6 million from ADB will be financed through the Leading Asia's Private Infrastructure Fund (LEAP), which is funded by JICA and administered by ADB.

In Vietnam, rapid urbanization and industrialization in recent years have resulted in an equally rapid increase in the volume of waste in urban areas. Due to the lack of intermediate treatment facilities such as incineration and composting facilities, proper waste management has yet to be fully put in place. Air and soil pollution, caused by the consequent illegal dumping and shortage of landfill sites, pose a threat to public health. Binh Duong Province, where this project will be operated, is adjacent to Ho Chi Minh City, the largest city in Vietnam, and has the highest population growth rate in the country. As one of Vietnam's major industrial bases, where many Japanese companies also operate, and with a daily general-waste volume of 2661 tons—exceeded only by Ho Chi Minh and Hanoi—the province needs to expand its existing waste treatment facilities to meet the increasing demand for waste treatment in the region.

In addition, fertilizer prices continue to rise due to the situation in Ukraine, and the need for a stable supply of fertilizer for farmers is increasing. This project aims to contribute to the improvement of the urban environment and the circular economy in the region by financing the construction of a composting plant with a capacity of 840 tons per day and a waste-to-energy incineration facility to process 200 tons per day. The project will also contribute to SDGs (Sustainable Development Goals) Goals 7 (Affordable and clean energy), 11 (Sustainable cities and communities), and 12 (Responsible consumption and production). What is more, the project is expected to reduce greenhouse gas emissions through the recycling of wastes by composting.

BIWASE, the borrower of the project, established in 1975 and privatized in 2016, is a water-supply and waste-treatment company, and is the sole waste-treatment company that provides general waste treatment in Binh Duong Province. JFE Engineering Corporation of Japan holds 3.87% of BIWASE's shares.

This is the second Private Sector Investment and Finance loan to be provided to BIWASE, following the "Binh Duong Province Water Environment Improvement Project" (Loan Agreement 2020)(*2). JICA has been supporting the installation of sewage systems and the improvement of sewage-treatment-plant capacity in Binh Duong Province through the "Southern Binh Duong Province Water Environment Improvement Project" (Loan Agreement 2007) and the "Southern Binh Duong Province Water Environment Improvement Project (Phase 2)" (Loan Agreement 2012), and BIWASE has been developing these projects through Japanese ODA Loans. Building on the trust built with long-time partners like BIWASE, JICA will continue to support Vietnam's long-term development in the future.