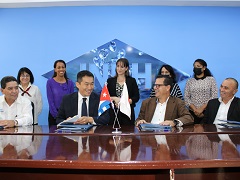 Signing Ceremony
On December 15, the Japan International Cooperation Agency (JICA) signed a Record of Discussions with the Government of the Republic of Cuba for the Project for Enhancement of Capacities for Integrated Water Resources Management, a technical cooperation project.

In the project area—Artemisa Province, Mayabeque Province, and Habana Province—groundwater is widely used for domestic and agricultural purposes, and is transferred across provinces and aquifers in a flexible manner. However, some parts of this area are seeing a decline in groundwater levels and salinization is occurring.

Aiming at reducing these negative impacts and promoting sustainable water use, the project will support the enhancement of integrated water resources management in the project area. Specifically, the project will strengthen basin councils to enable collaboration and coordination among stakeholders, improve the accuracy of water allocation plans based on scientific data, and support the updating of the Regional Scheme of Water Resources for appropriate water use in the entire project target area, etc.

By supporting the National Institute of Hydraulic Resources, the Ministry of Agriculture of the Republic of Cuba, etc., the project will contribute to the promotion of integrated water resources management, thereby also contributing to SDGs (Sustainable Development Goals) Goals 6 (Clean water and sanitation) and 13 (Climate action).

Details for the project are provided below.
[Basic project information]

| | |
| --- | --- |
| Country | The Republic of Cuba |
| Project title | The Project for Enhancement of Capacities for Integrated Water Resources Management |
| Planned implementation period | 60 months |
| Executing agency | National Institute of Hydraulic Resources, OSDE GIAT (Higher Business Management Organization – Terrestrial Water Management *provisional translation), Ministry of Agriculture |
| Target region | Six aquifers selected in Artemisa Province, Mayabeque Province, and Habana Province |
| Specific project details (provisional) | Strengthening institutional systems and the capacity of basin councils; strengthening basin/aquifer monitoring systems; updating the regional scheme of water resources; and strengthening coordination between the agricultural sector and the water sector |