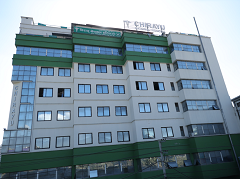 Investee Company: Hospital Expansion Project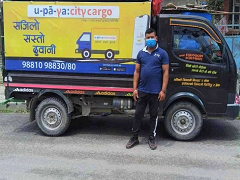 Investee Company: Digital Logistics Promotion Project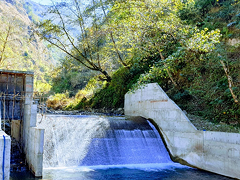 Investee Project: Small Scale Hydropower Project (for illustrative purposes)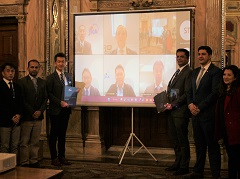 Signing Ceremony
On December 19, the Japan International Cooperation Agency (JICA) signed a 10 million USD investment agreement with Dolma Impact Fund II (DIF II), a Private Equity (PE) fund managed by Dolma Fund Management (DFM). JICA's investment will be mainly utilized for equity investment in healthcare companies, IT/Digital companies, and renewable energy projects in Nepal. JICA is co-investing alongside Development Financial Institutions such as the FMO, the Dutch entrepreneurial development bank; British International Investment, the UK's development finance institution and impact investor; Swedfund, the Swedish development finance institution; the International Finance Corporation (IFC); and the United States International Development Finance Corporation (DFC). JICA's investment is part of the final close of DIF II, which brings the fund corpus to 71.96 million USD.

Although Nepal experienced a temporary economic downturn due to the earthquake in 2015, the economy has revived since then and the country is now expected to graduate from the Least Developed Countries (LDC) category by 2026. On the other hand, Nepal is facing the challenge of a hollowing out of industry caused by the increased number of migrant workers, which in turn is due to the lack of promising domestic industries and job opportunities in Nepal. Therefore, the fosterage of promising industries such as healthcare and the IT/digital sector is urgently needed in Nepal. In some areas, however, Nepal has a natural advantage, being blessed with abundant water resources and an economically viable hydropower generation potential estimated at around 42,000 MW. Hence, Nepal is expected to expand its renewable generation capacity to contribute to the reduction of greenhouse gas emissions in South Asia.

DFM manages impact investment funds that promote industrial development, employment creation, and renewable energy development. They do so by investing in healthcare companies, IT/Digital companies, and renewable energy projects, mainly in Nepal, as well as by offering technical assistance to investee companies. In addition, DFM contributes to the development of the stock market and PE fund market in Nepal as a leading PE fund manager dedicated to the country. Furthermore, DIF II will invest in consideration of gender perspectives, following "2X Challenge: Financing for Women" (*). This project, therefore, will contribute to SDGs (Sustainable Development Goals) Goals 5 (Gender equality), 7 (Affordable and clean energy), and 8 (Decent work and economic growth).

JICA has been supporting Nepal's industrial development, renewable energy promotion, and investment-climate improvement through several technical and financial projects so far. We will continue offering our support to Nepal by creating a synergy between the existing projects and DIF II's activities.

(*) 2X Challenge: Financing for Women: An initiative adopted by the G7 development finance institutions (including JICA) on the occasion of the G7 Leaders' Summit in June 2018, aimed at mobilizing 3 billion USD by 2020 for projects that contributed to women's economic empowerment. In 2021, the goal of mobilizing 15 billion USD over the two years from 2021 to 2022 was set to further expand this initiative. "2X" refers to the goal of doubling not only the amount of investment in women, but also the effectiveness of said investment.