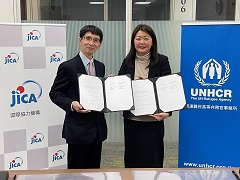 Signing Ceremony
On December 23, the Japan International Cooperation Agency (JICA) signed a grant agreement with the Office of the United Nations High Commissioner for Refugees (UNHCR) to provide grant aid of up to 1,797 million yen for the Project for the Improvement of Living Environment in the Hosting Area of Internally Displaced Persons and Returnees in Southern Afghanistan.

Afghanistan has long experienced conflicts and political unrest, which has resulted in a large number of internally displaced persons (IDPs) and refugees fleeing to neighboring countries. At the same time, the number of returnees from neighboring countries is on the rise, despite the challenging situation within Afghanistan. Most IDPs and returnees face poverty and are unable to establish a livelihood due to job opportunities being limited to unstable work such as day labor.

Five provinces in Southern Afghanistan (Kandahar Province, Helmand Province, Uruzgan Province, Nimroz Province, and Zabul Province), which are the target areas of the project, accounts for 25% of the country's total land area and have a population of three million, of which one-third is estimated to be IDPs and returnees, and since these provinces border on Pakistan and Iran, the number of IDPs and returnees is increasing. In these areas, the lack of basic facilities providing access to healthcare, water and hygiene, education, and livelihood support is therefore an urgent issue to be resolved.

This project aims to improve the living environment of the communities hosting IDPs and returnees through the construction of such basic-needs facilities as mentioned above, contributing to SDGs (Sustainable Development Goals) Goals 3 (Good health and well-being), 4 (Quality education), and 6 (Clean water and sanitation). The project will be implemented as humanitarian assistance through UNHCR, and will also contribute to the development of the Humanitarian-Development-Peace Nexus.

Details for the project are provided below.
[Basic project information]
Country
The Islamic Republic of Afghanistan
Project title
The Project for the Improvement of Living Environment in the Hosting Area of Internally Displaced Persons and Returnees in the Southern Afghanistan
Planned implementation period
24 months
Executing agency
The Office of the United Nations High Commissioner for Refugees
Target region, facilities
Five provinces (Kandahar Province, Helmand Province, Uruzgan Province, Nimroz Province, and Zabul Province)
Specific project details (provisional)
Health: construction of health facilities
Water and hygiene: construction of water supply facilities and support for their operation and maintenance
Education: construction of educational facilities
Livelihoods: construction of community centers and support for facility management