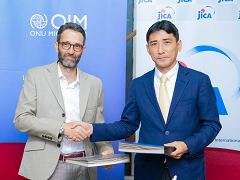 Signing ceremony
On December 28, 2022 the Japan International Cooperation Agency (JICA) signed a Grant Agreement with the International Organization for Migration (hereinafter referred to as "IOM") in Kinshasa to provide grant aid of up to 514 million yen for the Project for Strengthening Community Policing Activities.

Some areas within the Democratic Republic of the Congo (hereinafter referred to as "DRC") remain difficult for the government to control. The United Nations Organization Stabilization Mission in the Democratic Republic of the Congo (MONUSCO) has been operating peacekeeping efforts in the eastern part of the country for more than 20 years; however, it is expected to be phased out in the future. The establishment of peace and stability within DRC with a view to the future withdrawal of MONUSCO is thus an urgent issue.

In this context, the existence of the police plays a major role in ensuring peace and stability in the country. The national police reforms currently being undertaken by the government of DRC place the promotion and dissemination of community policing activities at their core, and JICA has been supporting such reform efforts for many years. In 2021, JICA launched the technical cooperation project named "Project of Professionalization of Police for People and Peace Phase 2," which supports the building of a community policing model by focusing on community policing activities, an area of particular importance to the DRC government in its police reforms.

This project aims to strengthen the capacity of community police and their activities in targeted areas by collaborating with IOM in the construction of necessary infrastructure and the provision of equipment for the introduction of the community policing model in Tanganyika Province and Kinshasa Province, the hub for the policymaking of national police reforms.

In addition, this project will disseminate the community policing model restructured through JICA's technical cooperation project mentioned above, to help realize peace and stability and contribute to the achievement of SDGs (Sustainable Development Goals) Goal 16 (Peace, justice and strong institutions).

Details for the project are provided below.
[Basic project information]
Country
The Democratic Republic of the Congo
Project title
Project for Strengthening Community Policing Activities
Planned implementation period
24 months
Executing agency
International Organization for Migration (IOM)
Target region, facilities
Tanganyika Province, Kinshasa Province
Specific project details (provisional)
①Tanganyika Province
・Construction: training center, police station, police substation
・Equipment procurement: vehicles, motorbikes, wireless communication devices
・Community-policing training for the police
・Support for the local security committees for promoting collaboration between the police and civilians

②Kinshasa Province
・Construction : police station, police substation
・Equipment procurement : vehicles, motorbikes, wireless communication devices