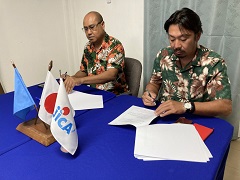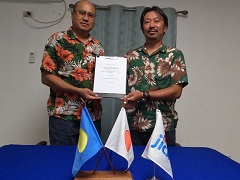 Signing ceremony
On January 9, the Japan International Cooperation Agency (JICA) signed a Record of Discussions with the Government of the Republic of Palau for the Project for Establishing an Eco-Friendly Transportation System, a technical cooperation project.

The Palau International Airport, constructed in 2003 through the cooperation of JICA, has been in use for 20 years, and a new terminal opened in May 2022. However, public transportation within the country itself is still limited, and the main transportation mode on the islands is private cars. What is more, increasing oil prices have become a major burden for citizens using private cars. To achieve sustainable economic growth that balances the development of tourism—a major industry of this country—with environmental considerations such as climate change, it is necessary to provide an alternative transportation mode that is widely accessible to all, and that takes into account Palau's unique characteristics as a maritime nation and a tourism destination.

Against such a background, this project will support the implementation of pilot projects and the formulation of a master plan related to public transportation, aiming to improve Palau's capacity for eco-friendly public-transportation-system planning and operation. This project will contribute to achieving SDGs (Sustainable Development Goals) Goals 9 (Industry, innovation and infrastructure), 11 (Sustainable cities and communities) and 13 (Climate action).

Details for the project are provided below.

[Basic project information]

| | |
| --- | --- |
| Country | Republic of Palau |
| Project title | The Project for Establishing an Eco-Friendly Transportation System |
| Planned implementation period | 36months |
| Executing agency | Ministry of Human Resources, Culture, Tourism, and Development |
| Target region | Entirety of Palau (Total population of approx. 18,000) |
| Specific project details (provisional) | To implement pilot projects and formulate a master plan on public-transportation-system development in order to strengthen Palau's capacity for eco-friendly public-transportation-system planning and operation, through dispatching expert teams, provision of trainings and equipment to the Palau Ministry of Human Resources, Culture, Tourism, and Development. |