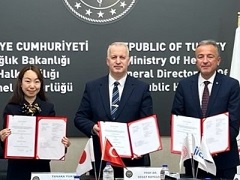 Signing ceremony
On December 28, 2022 the Japan International Cooperation Agency (JICA) signed a Record of Discussions with the Government of the Republic of Türkiye for the Project for One Health Approach to Control of Neglected Tropical Diseases with Special Attention on Sand fly and Mosquito Borne Infections, Science and Technology Research Partnership for Sustainable Development (SATREPS) [1].

This project, in collaboration with Ege University and the University of Tokyo, conducts research on the transmission of neglected tropical diseases, especially arthropod-borne diseases (ABDs) such as leishmaniasis [2] and others, based in the provinces of Ankara and Izmir. The main objectives of the project are to elucidate the transmission cycle of ABDs, develop risk maps, establish new detection technologies, and demonstrate new reservoir and vector control technologies.

Cases of leishmaniasis were reported only in certain provinces of Turkey in the past, but now almost all provinces have reported cases and more than 40 million people are feared to be at risk of infection. In recent years, about 2,500 cases have been confirmed annually, and measures to control ABDs are urgently needed. There is also limited official data available to elucidate the transmission cycle of leishmaniasis, and there is a need to develop a surveillance system for effective infection control measures.

This project will develop control technologies for leishmaniasis and other ABDs, thereby contributing to the strengthening of the control of various ABDs in Turkey, as well as to the achievement of SDGs (Sustainable Development Goals) Goal 3 (Good health and well-being).

[1] SATREPS is a joint research program that links Japan with universities and research agencies in developing countries to develop and apply new technology and acquire new scientific knowledge. These efforts are aimed at addressing global issues, including those related to the environment, energy, biological resources, disaster risk reduction, and infectious diseases, and support independent and sustainable development in developing countries. SATREPS aims to advance solutions to challenges while improving the research level at universities and research agencies in developing countries, strengthening their overall capacity to work on such issues.

[2] Leishmaniasis is one of the neglected tropical disease defined by the World Health Organization (WHO) as an arthropod-borne disease transmitted by female Phlebotomus sand flies.

Details for the project are provided below.
[Basic project information]

| | |
| --- | --- |
| Country | Republic of Türkiye |
| Project title | The Project for One Health Approach to Control of Neglected Tropical Diseases with Special Attention on Sand fly and Mosquito Borne Infections |
| Planned implementation period | 5 years |
| Executing agency | Ministry of Health, General Directorate of Public Health, Ege University, Faculty of Medicine |
| Target region | The provinces of Ankara and Izmir |
| Specific project details (provisional) | To develop detection techniques related to pathogens and biological factors (human, reservoir, vector) in the transmission cycle of cutaneous/visceral leishmaniasis and various ABDs, to develop risk maps for both cutaneous and visceral leishmaniasis, and to develop effective diagnostic and control techniques as well as guidelines to control both infections. |