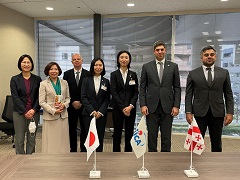 The two volunteers give their departure greetings to the Georgian Ambassador.
On January 23, the two first-ever Japan Overseas Cooperation Volunteers (JOCV) to be dispatched to Georgia greeted Ambassador Extraordinary and Plenipotentiary of Georgia to Japan Teimuraz Lezhava at JICA Headquarters prior to their departure.

JICA opened its Georgia office in May 2017, and an exchange of notes on an agreement to dispatch JOCV to Georgia was signed between the respective governments in December 2019. Though the first volunteers were expected to be dispatched during FY2020, this was postponed due to the spread of COVID-19; the first dispatch is finally taking place in January 2023. Georgia will be the 99th country to receive JOCV.

Ms. Uchida Risa (from Kumamoto Prefecture), who teaches Japanese for a Japanese language course at a state university in Georgia's capital, Tbilisi, and Ms. Ogizawa Mai (from Ibaraki Prefecture), who provides student guidance and counseling at a children's self-reliance support facility, also in Tbilisi, expressed their aspirations and determination in their activities, despite their nervousness. In response, Ambassador Lezhava expressed his gratitude for Japan's ODA and JICA's projects, and expressed his high hopes for the JOCV's activities in Georgia. The Ambassador came to Japan at the age of four and later graduated from Waseda University. He has a deep knowledge of Japanese society and culture, is fluent in Japanese, and is well-known for his frequent humor-filled SNS messages. It was also discovered that Ambassador Lezhava and Ms. Ogizawa were classmates at junior high school in Tsukuba, Ibaraki, which resulted in a happy scene of old friendships renewed, at what was their first reunion in 18 years.

In line with the Japanese government's Country Assistance Policy for Georgia, JOCV will be dispatched within the sectors of health and medical care, education, agriculture, tourism, and local industry. Following the first two volunteers, two more are scheduled to be dispatched around April 2023 in fields related to tourism and local-industry development, and in the future, it is planned that more than 10 volunteers will have activities in Georgia.