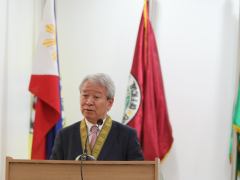 Speech at the BTA Parliament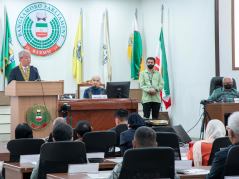 Speech at the BTA Parliament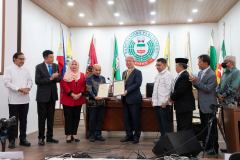 Resolution by the BTA Parliament
On January 18, 2023, President Tanaka Akihiko delivered a speech before the Bangsamoro Transition Authority (BTA) Parliament in Cotabato City, Bangsamoro Autonomous Region in Muslim Mindanao. President Tanaka is the first foreign official to do so. In his speech, he praised BTA for its steady advancement of the peace process in cooperation with the Government of the Philippines (GOP) and conveyed that JICA will continue to cooperate with the Bangsamoro people in order to consolidate peace.

In response, the BTA Parliament issued a resolution appreciating and commending JICA's continued cooperation with the Bangsamoro region. The resolution was adopted by the members of BTA Parliament to recognize JICA's contribution to the consolidation of peace, and its cooperation in the reconstruction and development of the region, which has been affected by the conflict between the GOP and Islamic militant groups for more than 40 years.

JICA's cooperation with regard to the Mindanao peace process began in the 1990s.Since then, JICA has been engaged in a wide range of initiatives, including assistance for governance, livelihood improvement, community development, infrastructure and economic development through the industrial revitalization. Particularly in 2008, when the peace negotiations were stalled, violent conflicts intensified in the region and most of the partner countries withdrew their personnel from the region. On the other hand, JICA continued its cooperation on the ground with the strong will of then President Ogata Sadako. Moreover, toward the signing of the Comprehensive Agreement on the Bangsamoro in 2014, President Tanaka pushed for a more active promotion of peace process, sending a clear message that JICA will continue to assist the region. Hence, JICA's succeeding cooperation included institution building, human resource development, formulation of regional development plans. In the same year, JICA also co-hosted a seminar with a Malaysian university to discuss the challenges in advancing the peace negotiations and the key actions needed to address said challenges to establish the Bangsamoro government. These efforts have been highly appreciated by BTA Parliament.

JICA will continue and expand its cooperation as a trusted partner of the BTA by supporting the transition process, improving the livelihood of Bangsamoro people, and strengthening the socioeconomic development in the region.