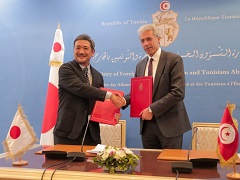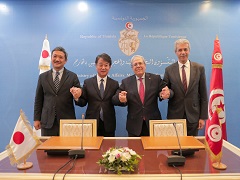 Signing ceremony
On January 27, the Japan International Cooperation Agency (JICA) signed a loan agreement with the Government of the Republic of Tunisia to provide a Japanese ODA loan of up to 12,000 million yen for the Project for Support to Strengthen the Social Protection.

The COVID-19 pandemic and the war in Ukraine have led to an increase in both unemployment and poverty rates in Tunisia, accompanied by social unrest as a result of the soaring price of everyday goods. While a social welfare program does exist in Tunisia, which includes cash transfers, expansion of the program to cover all those in need is urgently required in this context. This project will support livelihood improvement for the poor and vulnerable population through an appropriate expansion of the number of households benefiting from the social protection scheme. Additionally, this project, which will be in a form of the parallel-financing with the World Bank, will also contribute to the achievement of SDGs (Sustainable Development Goals) Goal 1 (No poverty).











1. Terms and Amount of Loan
Project title
Amount
(million yen)
Annual interest rate (%)
Repayment
period
(years)
Grace
period
(years)
Procurement
Project
Consulting services
Project for Support to Strengthen the Social Protection
12,000
1.25
N/A
30
10
General
2. Executing Agency
Ministry of Social Affairs
Address: Rue Bab Banat n°27 1006, Tunis, Tunisia
Phone: +(216) 71 150 000

3. Planned Implementation Schedule
(1) Completion of project: June 2025
(2) Issuing of letters of invitation for consulting services (including detailed design work): Consulting services will not be provided for this program.
(3) Tender announcement of initial procurement package for international competitive bidding (ICB) on project construction: No work in conjunction with bidding is planned for this program.