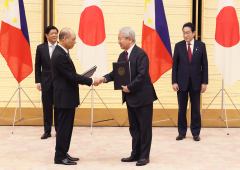 Loan agreements exchange ceremony (Source: Official Website of the Prime Minister of Japan and His Cabinet)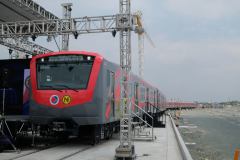 Rolling Stocks - Commuter Trainset, North-South Commuter Railway Project (Malolos – Tutuban)
On February 9, the Japan International Cooperation Agency (JICA) signed loan agreements with the Government of the Republic of the Philippines in Manila to provide Japanese ODA loans of up to a total of 377,017 million yen for the following two projects.

(1) North-South Commuter Railway Project (Malolos - Tutuban) (II) (loan amount: 107,017 million yen)
(2) North-South Commuter Railway Extension Project (II) (loan amount: 270,000 million yen)

Details for the projects are provided below.


(1) North-South Commuter Railway Project (Malolos - Tutuban) (II)

(a) Objective and Summary
The objective of the project is to strengthen the transportation network and decongest Metro Manila through the development of a new railway running from Malolos, Bulacan to Tutuban, Manila, thereby contributing to the expansion of Metro Manila's economic sphere and the alleviation of air pollution. The project will also contribute to the achievement of SDGs (Sustainable Development Goals) Goals 9 (Industry, innovation and infrastructure), 11 (Sustainable cities and communities), and 13 (Climate action).

Special Terms for Economic Partnership (STEP)* will apply to the Japanese ODA loan for this project, and Japanese technology, including E&M systems with secure and stable operation and management systems and vehicles that can save energy, will be utilized.

Terms and Amounts of Loan
Project title
Amount
(million yen)
Annual interest rate (%)
Repayment
period
(years)
Grace
period
(years)
Procurement
Project
Consulting services
North-South Commuter Railway Project (Malolos - Tutuban) (II)
107,017
0.1
0.01
40
12
Japan tied
(b) Executing Agency
Department of Transportation
Address: The Columbia Tower, Brgy. Wack-wack, Ortigas Avenue,1555 Mandaluyong City, Philippines
Phone: +63-2-790-8400

(c) Planned Implementation Schedule
1. Completion of project: November 2025 – when the facilities are put into service
2. Issuing of letters of invitation for consulting services (including construction supervision): February 2016 (already contracted)
3. Tendering announcement of initial procurement package for international competitive bidding on project construction:
Procurement package title: CP01 Elevated Structures, 7 stations and Depot; and CP02 Elevated Structures and 3 stations
Release date: May 2018 (already contracted)
4. JICA contact information
For further information about the procurement schedule, please contact the party
listed below.
Contact Point for Transportation Sector, JICA Philippines Office
Address: 40th Floor, Yuchengco Tower, RCBC Plaza, 6819 Ayala Avenue, Makati City, Philippines
Phone: +63-2-889-7119, fax: +63-2-889-6850



(2) North-South Commuter Railway Extension Project (II)
(a) Objective and Summary
The objective of the project is to strengthen the transportation network and alleviate serious traffic congestion in the Greater Capital Region. It will do so by extending the North-South Commuter Railway from Malolos to Clark International Airport and from Solis to Calamba, thereby contributing to the expansion of Metro Manila's economic sphere and to the improvement of the investment environment, as well as mitigating air pollution and climate change. The project will also contribute to the achievement of SDGs (Sustainable Development Goals) Goals 9 (Industry, innovation and infrastructure), 11 (Sustainable cities and communities), and 13 (Climate action).

Special Terms for Economic Partnership (STEP)* will apply to the Japanese ODA loan for this project, and Japanese technology, including E&M systems with secure and stable operation and management systems and vehicles that can save energy, will be utilized.

Terms and Amounts of Loan
Project title
Amount
(million yen)
Annual interest rate (%)
Repayment
period
(years)
Grace
period
(years)
Procurement
Project
Consulting services
North-South Commuter Railway Extension Project (II)
270,000
0.1
0.01
40
10
Japan tied
(b) Executing Agency
Department of Transportation
Address: The Columbia Tower, Brgy. Wack-wack, Ortigas Avenue,1555 Mandaluyong City, Philippines
Phone: +63-2-790-8400

(c) Planned Implementation Schedule
1. Completion of project: April 2028 – when the facilities are put into service
2. Issuing of letters of invitation for consulting services (including construction supervision): January 2019 (already contracted)
3. Tendering announcement of initial procurement package for international competitive bidding on project construction:
Procurement package title: CP NS-02 Rolling Stock – Commuter Trainsets
Release date: September 2020 (already contracted)
4. JICA contact information
For further information about the procurement schedule, please contact the party
listed below.
Contact Point for Transportation Sector, JICA Philippines Office
Address: 40th Floor, Yuchengco Tower, RCBC Plaza, 6819 Ayala Avenue, Makati City, Philippines
Phone: +63-2-889-7119, fax: +63-2-889-6850


* STEP refers to special assistance terms for promoting the visibility of Japanese aid through a transfer of outstanding Japanese technology and expertise to developing nations. The main contract is Japan tied and subcontracting is general untied. The main agreement partner must generally be a Japanese company, an overseas subsidiary of a Japanese company, or a joint venture between a Japanese company and the borrowing country where the Japanese company is the lead partner, although under certain conditions a joint venture between a Japanese company (which is the lead partner of the joint venture) and an affiliated company (as accounted under the equity method) of a Japanese company may be the main agreement partner.