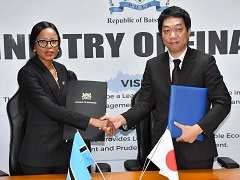 Signing ceremony
On February 17, the Japan International Cooperation Agency (JICA) signed a loan agreement with the Government of the Republic of Botswana in Gaborone to provide a Japanese ODA loan of up to 15,000 million yen for the COVID-19 Crisis Response Emergency Support Loan.

In Botswana, where the socio-economic impact of the spread of COVID-19 has been severe, JICA will provide financial support to the government to protect the socially vulnerable, maintain economic activity, and promote green growth. This loan, co-financed by the World Bank and the African Development Bank, will thereby contribute to economic and social stability and the promotion of development efforts in Botswana, as well as to the achievement of SDGs (Sustainable Development Goals) Goal 1 (No poverty), 3 (Good health and well-being), 5 (Gender equality), 7 (Affordable and clean energy), 8 (Decent work and economic growth), and 13 (Climate action).

Details for the project are provided below.

1. Terms and Amount of Loan
Project title
Amount
(million yen)
Annual interest rate (%)
Repayment
period
(years)
Grace
period
(years)
Procurement
Project
Consulting services
COVID-19 Crisis Response Emergency Support Loan
15,000
0.01
-
15
4
General untied
2. Executing Agency
Ministry of Finance
Address: Government Enclave Khama Crescent Block 25, State Drive, Gaborone, Botswana
Phone: +(267) 3950100

3. Planned Implementation Schedule
(1)Completion of project: March to May 2023 – when disbursement is completed.
(2)Issuing of letters of invitation for consulting services (including detailed design work): no hiring of consultants is planned for this program.
(3)Tendering of announcement of initial procurement package for international competitive bidding on project construction: no work in conjunction with bidding is planned for this program.