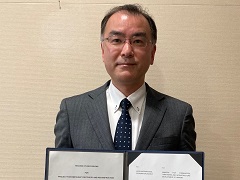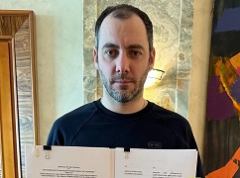 Signing ceremony
On February 24, 2023, the Japan International Cooperation Agency (JICA) signed a Record of Discussions with the Government of Ukraine for the Project for Emergency Recovery and Reconstruction, a technical cooperation for development planning.

The Russian military invasion of Ukraine, which began a year ago on February 24, 2022, shows no sign of abating. Missile attacks have been targeting Ukraine's infrastructure, including energy facilities, having a devastating impact on civilians. The destroyed buildings, facilities, and infrastructure have generated a large amount of debris, making the disposal and recycling of destruction waste an arduous task. Under these circumstances, the quick recovery of damaged infrastructure and cities in a resilient manner is vital to maintaining people's livelihoods and economic activities in Ukraine.

This project will contribute to the emergency recovery of infrastructure in Ukraine through the provision of equipment and the formulation of medium- to long-term recovery and reconstruction plans. The project is multi-sectoral, covering (1) power, (2) transport, (3) destruction waste management, (4) water and sewage, and (5) urban and regional development, and aims at paving the way for the full-scale recovery and reconstruction of Ukraine's infrastructure.

Details for the project are provided below.

[Basic project information]

| | |
| --- | --- |
| Country | Ukraine |
| Project title | Project for Emergency Recovery and Reconstruction |
| Planned implementation period | Two (2) years |
| Executing agency | Ministry for Communities, Territories and Infrastructure Development, Ministry of Energy, Ukrenergo, local authorities |
| Target region | Ukraine (Target cities are Kyiv, Odesa, Dnipro, Kharkiv, Mykolaiv, Kherson) |
| Specific project details (provisional) | Implementing an emergency recovery and reconstruction project, including the provision of equipment and support for the planning of infrastructure recovery and reconstruction for the target cities. |