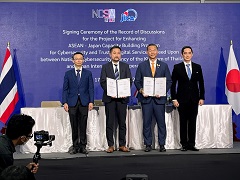 Signing ceremony
On February 17, 2023, the Japan International Cooperation Agency (JICA) signed a Record of Discussions with the Government of Thailand for the Project for Enhancing ASEAN-Japan Capacity Building Program for Cybersecurity and Trusted Digital Services, a technical cooperation project.
Against a backdrop of growing cybersecurity risks as a result of the progression of digitalization, in 2018, the Government of Japan established the ASEAN-Japan Cybersecurity Capacity Building Center (AJCCBC) with the ASEAN Secretariat and the Government of Thailand, aiming to support the development of ASEAN member states' capacity for cybersecurity.

This project is the first to be based on a technical cooperation agreement between the Government of Japan and the ASEAN Secretariat, and aims to contribute to the improvement of cybersecurity throughout the ASEAN region. It will do so by enhancing the content of the training provided by AJCCBC. The project will also contribute to SDGs (Sustainable Development Goals) Goals 9 (Industry, innovation, and infrastructure) and 17 (Partnerships for the goals).

The details of the project are as follows.

[Basic project information]

| | |
| --- | --- |
| Country | ASEAN Member states |
| Project title | Project for Enhancing ASEAN-Japan Capacity Building Program for Cybersecurity and Trusted Digital Services. |
| Planned implementation period | 48 months |
| Executing agency | National Cyber Security Agency, Thailand |
| Target region | Cybersecurity Officers in ASEAN member states |
| Specific project details (provisional) | The project aims to develop a skilled cybersecurity workforce among ASEAN member states by expanding cybersecurity training and cybersecurity human resource development programs for young people, holding seminars in cooperation with third-party organizations, and strengthening the information-gathering and analysis capabilities of the AJCCBC (ASEAN Japan Cybersecurity Capacity Building Center). |