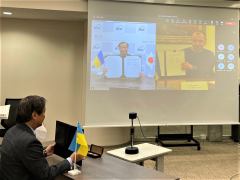 online signing ceremony
On March 9, the Japan International Cooperation Agency (JICA) signed a grant agreement with the Government of Ukraine, connecting Tokyo and Kyiv online, to provide grant aid of up to 22.44 billion yen for the Programme for Emergency Recovery.

The Russian aggression against Ukraine which started on February 24, 2022, has been prolonged. Lives of Ukrainian citizens have been getting more and more difficult, because of the frequent evacuation to shelters and planned blackouts etc., due to the missile attacks targeting energy infrastructure and civilian facilities especially after October 2022.

This programme is to respond to the priority needs of Ukraine for the emergency recovery, in cooperation with Ukrainian government and international communities. Through the procurement of equipment for nine sectors (Humanitarian Mine Action, Destruction Waste Management, Transport, Energy, Water Supply, Sewage, Healthcare, Education, Agriculture), it aims to establish base for the full-scale recovery and reconstruction, rebuild peoples' lives especially for returning evacuees, and recover agriculture sector as one of the key industries of the country.

This programme will contribute to the achievement of SDGs Goal 7 (Affordable and clean energy), Goal 11 (Sustainable cities and communities) and Goal 16 (Peace, justice and strong institutions).

Details for the programme are provided below.

[Basic project information]
Country
Ukraine
Project title
The Programme for Emergency Recovery
Planned implementation period
22 months, including the bidding period (subject to change depending on the security situation of Ukraine)
Executing agency
Ministry for Communities, Territories and Infrastructure Development of Ukraine, Ministry of Energy of Ukraine, Ministry of Health of Ukraine, Ministry of Education and Science of Ukraine, Ministry of Agrarian Policy and Food of Ukraine, The State Emergency Service of Ukraine, etc
Target region, facilities
Throughout all of Ukraine
Specific project details (provisional)
① Equipment procurement:
Equipment for humanitarian mine action, destruction waste management, transport services, energy services, water supply, sewage facilities (include installation), medical and healthcare services, education services, and agriculture sector

② Consulting services
None