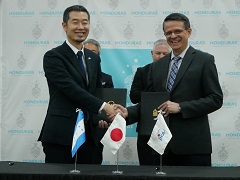 Signing ceremony
On March 10, the Japan International Cooperation Agency (JICA) signed a grant agreement with the Government of the Republic of Honduras in Tegucigalpa to provide grant aid of up to 1,013 million yen for the Project for the Improvement of Infectious Waste Management.

As the amount of infectious waste generated at medical facilities in Honduras increases due to the COVID-19 pandemic, the lack of resources such as detoxification equipment, waste collection vehicles, and sterilization equipment is resulting in infectious waste being disposed of inadequately, for example alongside general waste at final landfill sites. This is posing an increased infection risk to healthcare workers, garbage collectors, waste management workers, and citizens living close to waste management sites—one that urgently needs to be tackled.

In light of this situation, the project will install sterilization equipment for infectious waste at 11 of the country's large-scale hospitals that do not have detoxification treatment plans and have the potential for sustainable operation maintenance and management. In the 3 target countryside municipalities, in addition to providing vehicles for separating and collecting waste from healthcare facilities, this project will set up heavy machinery and sterilization equipment in sections specific to infectious waste at final landfill sites.

This project aims to strengthen the baseline for appropriate infectious waste management, sterilization, and infectious disease control in Honduras. By preventing the spread of infection via waste products, this project will contribute to the provision of high-quality social services within the country.

This project will also contribute to the achievement of SDGs (Sustainable Development Goals) Goals 3 (Good health and well-being), 11 (Sustainable cities and communities), and 12 (Responsible consumption and production).

Details for the project are provided below.

[Basic project information]
Country
Republic of Honduras
Project title
The Project for the Improvement of Infectious Waste Management
Planned implementation period
24 months, including detailed design work and the bidding period
Executing agency
Secretaría de Salud (SESAL)
Target region, facilities
Francisco Morazán (Tegucigalpa), Cortés, El Paraíso, Santa Bárbara, Atlántida, Olancho, Comayagua, Choluteca, Ocotepeque, Intibucá (10 municipalities, approx. 6.5 million inhabitants)
Specific project details (provisional)
1 Equipment procurement
Infectious waste management sterilization apparatus (roughly 300 kg/day [15 units], transformers [13 units], containers for setting up sterilization equipment [15 units]), machinery for collection and transport management (pick-up trucks [4 units]), machinery for final landfill site (21-t bulldozers [3 units], 0.8-m3 excavators [2 units], 0.5-m3 excavators [2 units]), a 45-t truck scale [1 unit]
2 Consulting services
Detailed design work, bidding assistance, construction/procurement supervision, guidance in managing the facilities, etc.