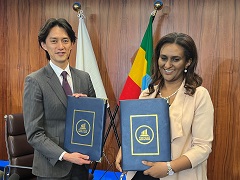 signing ceremony
On March 10, the Japan International Cooperation Agency (JICA) signed a grant agreement with the Government of the Federal Democratic Republic of Ethiopia in Addis Ababa to provide grant aid of up to 2,615 million yen for the Project for the Development of Water Supply Facilities of Small Towns in Oromia Region.

In Ethiopia, only 13% of people have access to safely controlled water, resulting in many cases of waterborne diseases caused by drinking unsafe water. Diarrhea, for example, accounts for 8% of all deaths among children under 5 years old. In addition, 63% of individuals responsible for pumping water are women and girls aged 15 or older, and the need to fulfill this responsibility is one of the factors preventing girls from going to school and women from taking on paid work. Furthermore, the Horn of Africa in the eastern part of the continent, which includes Ethiopia, is experiencing the worst drought in 40 years due to a lack of rainfall since around 2020. Therefore, the improvement of water supply facilities is urgently needed.

Under this project, piped water supply facilities will be installed in six small towns of two zones in Oromia Region in order to improve access to safe drinking water. It is expected that this project will contribute to the improvement of livelihoods through the reduction of waterborne diseases and the burden of collecting water. This project will also contribute to the achievement of SDGs (Sustainable Development Goals) Goals 3 (Good health and well-being), 6 (Clean water and sanitation), and 13 (Climate action).

Details for the project are provided below.
[Basic project information]
Country
Federal Democratic Republic of Ethiopia
Project title
The Project for the Development of Water Supply Facilities of Small Towns in Oromia Region
Planned implementation period
64 months, including detailed design work and the bidding period
Executing agency
Oromia Water and Energy Bureau (OWEB)
Target region, facilities
6 Small Towns of East Shewa Zone and Arsi Zone in Oromia Region
Specific project details (provisional)
①Facility improvements/equipment procurement
Installing 6 piped water supply facilities

②Consulting services
Detailed design work, bidding assistance, construction/procurement supervision (as guidance in managing the facilities), training for operation and maintenance of the piped water supply facilities