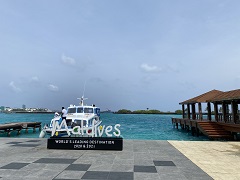 Image of tourist site in Maldives
On March 27, the Japan International Cooperation Agency (JICA) signed a loan agreement with the Bank of Maldives PLC of the Republic of Maldives for Private Sector Investment Finance of up to 13 million US dollars to finance loans for local tourism providers in the country. This is JICA's first Private Sector Investment Finance project for the Maldives, which is to be co-financed by the Asian Development Bank (ADB) and the Development Bank of Austria (OeEB).

Known as "the pearl necklace of the Indian Ocean," the Maldives has been blessed with an abundance of natural tourism resources that could only be found in an island nation. The country has developed around tourism as its leading industry, and it is estimated that related sectors such as accommodation and food and beverage services for tourists account for more than 75% of its GDP. With the amount of employment this offers, tourism plays an important role in the Maldivian economy. However, the spread of COVID-19 caused the number of international arrivals in 2020 to decline by about 70% compared with the previous year, impacting the local tourism providers significantly. Although the number of international tourist arrivals gradually bounced back since 2021, expanding financial services for local tourism providers has become key in order to help economic activity resume.

This loan will improve local tourism providers' access to finance by facilitating expanded lending through the Bank of Maldives, the country's largest financial institution. Among providers, emphasis will be placed on small and medium-sized enterprises as well as women-owned businesses, which face particular challenges in accessing finance. In doing so, the project will contribute to SDGs (Sustainable Development Goals) Goals 5 (Gender equality), 8 (Decent work and economic growth), and 17 (Partnerships for the Goals). The project will also include a Gender Action Plan, and hence contribute to the goals of 2X Challenge: Financing for Women(*), an initiative of the G7 development finance institutions for the economic empowerment of women.

Last year marked the 55th anniversary of diplomatic relations between Japan and the Maldives. Through this project, JICA will work to build on the foundation of trust it has established with the Maldives and further strengthen relations between the two countries. Moving forward, JICA will continue to provide cooperation for the further development of the Maldivian economy.

(*) 2X Challenge:Financing for Women
An initiative adopted by the G7 development finance institutions (including JICA) on the occasion of the G7 Leaders' Summit in June 2018, aimed to mobilize 3 billion US dollars by 2020 for projects that contributed to women's economic empowerment. In 2021, the goal of mobilizing 15 billion US dollars over the two years from 2021 to 2022 was set to further expand this initiative. "2X" refers to the goal of doubling not only the amount of investment in women, but also the effectiveness of said investment.