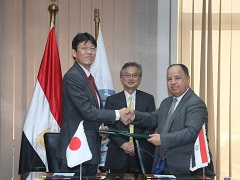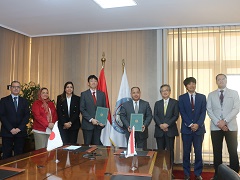 signing ceremony
On March 27, the Japan International Cooperation Agency (JICA) signed a loan agreement with the Government of the Arab Republic of Egypt in Cairo to provide a Japanese ODA loan of up to 44,000 million yen for the Development Policy Loan for Universal Health Coverage.

Due to the country's rapid population growth, the COVID-19 pandemic, and rising prices, now more than ever, Egypt is in urgent need of a system that enables its citizens to access quality health services without expensive medical bills that leave them impoverished. Egypt has been working to introduce the Universal Health Insurance System since 2018; however, it faces certain challenges such as financial constraints.

In response to this situation, the objective of the loan is to financially support Egypt's implementation of the Universal Health Insurance System, including a medical security system and improved health care services, thereby contributing to the attainment of universal health coverage and promoting Egypt's economic stabilization and development efforts. The loan will also contribute to the achievement of SDGs (Sustainable Development Goals) Goals 1 (No poverty), 3 (Good health and well-being), and 10 (Reduced inequalities).

Details for the project are provided below.

1. Terms and Amount of Loan
Project title
Amount
(million yen)
Annual interest rate (%)
Repayment
period
(years)
Grace
period
(years)
Procurement
Project
Consulting services
Development Policy Loan for Universal Health Coverage
44,000
0.01
-
15
4
General untied
2. Executing Agency
Ministry of Finance
Address: Ministry of Finance Towers
Emtadad Ramsis St., Nasr City, Cairo, the Arab Republic of Egypt
TEL: +20 2 2342 8330

3. Planned Implementation Schedule
(1) Completion of project: July 2024 – with completion of the loan disbursement
(2) Issuing of letters of invitation for consulting services (including detailed design work): No hiring of consultants is planned for this project.
(3) Tendering of announcement of initial procurement package for international competitive bidding on project construction: No work in conjunction with bidding is planned for this project.