The Project for Smallholder Horticulture Farmer Empowerment through Promotion of Market-Oriented Agriculture(Ethio-SHEP) started in January 2017. The project covers 4 zones in 2 regions, total 33 farmer's groups, and has conducted activities with counterparts (Ministry of Agriculture, Amhara Bureau of Agriculture and Oromia Bureau of Agriculture) for the purpose of increasing farmer's income through market-oriented agricultural production & marketing based on the SHEP approach.
Ethio-SHEP project's activities and its outcome
The project and CPs organization have tried to deliver the extension service using the SHEP approach based on the Ethiopian context. The project and CPs have elaborated crop calendars with budgeting explained by illustrations. The Kamishibai (picture-based extension materials for Crop production) which were developed & modified with counterparts, has been also used in the training for farmers.
With these all kinds of efforts in the activities, average income of farmers (1st and 2nd year target groups) has significantly increased by 2.7 times.
Counterparts' initiative for the scaling-up on SHEP activities
In addition to the project's activities, counterpart's organizations in each level, i.e., Region, Zone and Woreda, started adopting SHEP approach with their own initiative (Scaling-up).
Amhara Bureau of Agriculture has allocated regional budget for conducting SHEP activities for new farmer's groups every year since 2019. In 2020, even though there were some negative impacts from the COVID-19 pandemic, they continued the activity.
In Oromia region, the scaling up activity has started by zone's initiative in 2021.
Followings are voices from target farmers of scaling-up activity by counterparts;
"Before, there was less attention from Development Agents (DAs). But now, it is improved and we are continuously followed-up"
"We decided to grow hot pepper based on the information from the market. When we introduced a new crop before, we started with small scale due to fear of market. Now we got information from traders, so we can make a plan with confidence."
These comments show that the essential points in the SHEP approach such as "Building a relationship of trust" and "Crop selection based on the market needs" are practiced in the scaling-up activities.
Scaling-up activities, as well as the project's activities, are shared among counterparts and project's stakeholders through SNS group (Telegram and Facebook). Counterparts motivate each other by reacting with "like" button and making comments to the posted message. The tablets which were distributed by JICA as a tool for strengthening extension activities under the COVID-19 pandemic contribute these communications.
Project activity amid unrest
A conflict between the government of Ethiopia and forces in its northern Tigray region has been going on since November 2020.
This conflict has caused many Internally Displaced People, and the food security is the pressing issue now. Fortunately, both the project sites and scaling-up sites have no direct impact by the fight (as of December 2021), but have some social impacts such as an increase in food price in the market. Crop selection and production planning by farmers should be flexible according to the change of the market situation. Ethio-SHEP target farmers did exercise on record keeping on production costs and simple calculations on cost benefit, during the training on crop calendar making, and that knowledge and experiences in SHEP activities can help them react to this drastic change of market situation.
The project in cooperation with counterparts continues to support them as much as possible.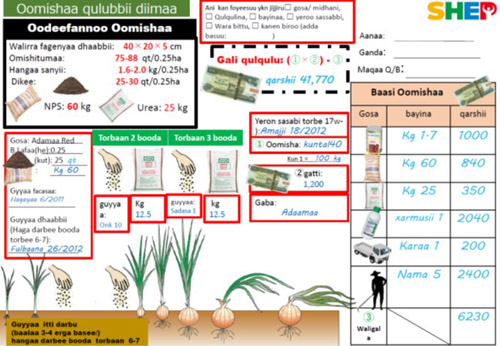 Crop calendar (Onion)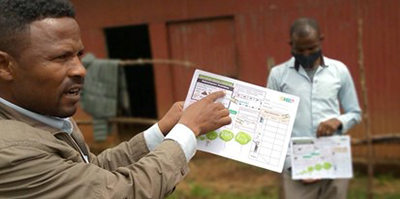 Counterpart explains the crop calendar to farmers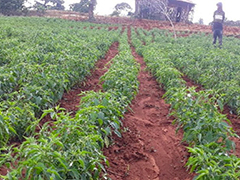 Scaling-up activity by counterparts: hot pepper field (Awi zone in Amhara region)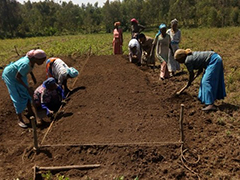 Scaling-up activity by counterparts: Making nursery bed (Jimma zone in Oromia region)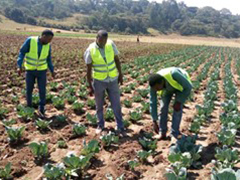 Head of Jimma Agriculture office visited the field of scaling-up activity