"We are made of what we consume every day. I know the source of my beauty is vegetables I eat." A healthy and brilliant lady, Ms Nancy Sumari who won the title Continental Queen of Africa for Miss World 2005, confidently shares her long-standing-beauty experience in the screen in front of various mouth-watering vegetable dishes, encouraging Tanzanians to do the same for better health and beauty through a video clip released and aired on Clouds TV under TANSHEP project.
TANSHEP is the market-oriented horticulture project, implemented by Ministry of Agriculture and President's Office Regional Administration and Local Government (PO-RALG) in assistance with JICA, covering the three regions of Kilimanjaro, Arusha and Tanga. The project capacitates farmers to gain more income by encouraging them to look at market needs first before production.
TANSHEP has started a series of promotion to raise awareness of vegetable consumption among Tanzanian consumers for their healthy diet and nutrition improvement. In 2020, TANSHEP created "TANSHEP calendar" in collaboration with Ms. Mbwana Ally Samatta who are one of the most famous soccer players in Tanzania. This calendar shows his brilliant message; I was born to score goals and I score lots of them. But before I shoot to score, I have to be aware where the goal-posts are. Just like in farming, you won't be able to sell your produce for profit unless you know the market needs. Let's do market survey first before start producing.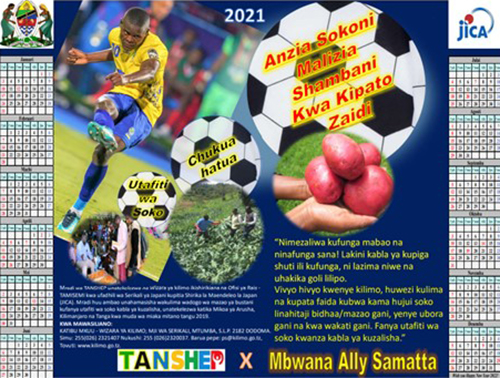 The campaign to consume vegetables has started in 2021 during the International Year of Fruits and Vegetables declared by the United Nations. In the campaign, TANSHEP created " TANSHEP Promotional Video" in collaboration with Ms. Nany Sumari of a continental queen of Miss World Africa 2005 and broadcasted it on TV in Tanzania.
TANSHEP will continue to promote the use of vegetable to Tanzanians with nutritional experts and influencers.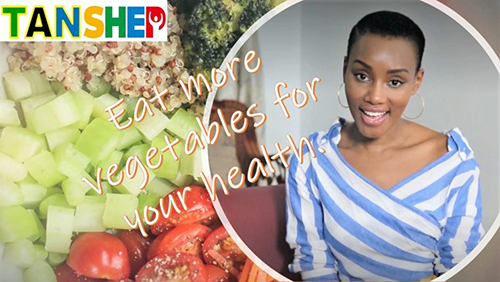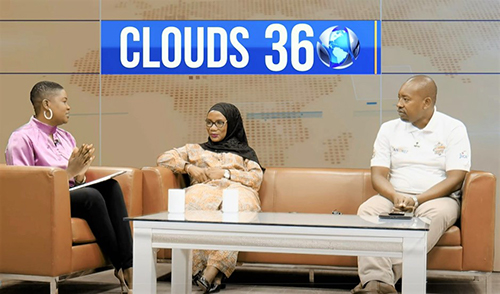 TANSHEP Task Force members, Ms. Tabu Likoko from the MoA(center) and Mr. Issa Hatibu from Regional Administrative Secretary (RAS) in Tanga(right), were interviewed on TANSHEP activities in Clouds 360