Course Title: Rural Community Development by Livelihood Improvement Approach for Africa, 2010 Region-focused training
Implementing Partner: NTC International Co., Ltd
Organizer: Tsukuba International Center (JICA TSUKUBA)
---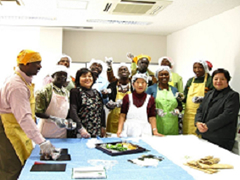 I am a local government officer of District Administration-Mafeteng in Lesotho. My job is to support community councils and local structures in developing regional areas, to promote democratization of rural areas, to make a budget of local agencies and supervise them.
Farmers in Lesotho face many problems. Their community is poorly organized. Their tie is very weak. They have no clear vision. In addition, they heavily depend on external assistance. These problems result in low productivity, insecure food subsistence. They suffer from financial difficulty.
I expected to learn how to formulate a feasible action plan, how to improve their productivity and efficiency, and how to formulate a strong structure in their community. As a result of this course, I formulated a feasible action plan.
Especially, I learnt a lot when I visited a small agricultural group in Yamaguchi Prefecture. Its members process agricultural products to add value, and sell them at their own shop and other farm markets, which brought them extra income. In addition to that, they utilize forest and attract tourists. This activity leads to not only extra income but also preservation of natural environment. They utilize local resources like agricultural products, forest, and streams. I was greatly impressed by their positive involvement and various activities.
Upon returning to my country, I will democratize a target group which has 34 members. I believe that democratization of farmers' organization is the first step towards livelihood improvement. To do that, I will encourage them (1) to elect a leader, secretary, treasurer, etc, (2) to make rules by themselves and request them to observe them, (3) to introduce record keeping and screening techniques, and (4) ensure transparency of the group activities. I think that in the rules, there should be some punishments to ensure that all members of the target group join discussion and farming activities. The target group has already started vegetable garden and bee keeping. I will go to teach them how to improve productivity of vegetables and honey. I really hope that this group can become a good example and stimulate other people. I hope my action plan works well step by step.
May 18, 2011