Course Title: Tsunami Disaster Mitigation 2010, Region Focused Training
Implementing Partner: Building Research Institute
Organizer: Tsukuba International Center (JICA TSUKUBA)
---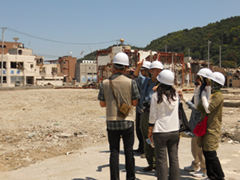 I am a supervisor of Indonesian Tsunami Early Warning System (InaTEWS). I monitor earthquake and tsunami as well as coordinate my staffs, check tsunami data and transmit tsunami warning to relevant agencies, authorities, and public.
We don't have a good operation procedure. That is, tsunami warning is still inaccurate due to low density of sensors. In addition, we do not have enough tsunami data. We also need to build better cooperation with other organizations relating to earthquake and tsunami.
In this course, I could obtain various knowledge and techniques. Especially, I wanted to point out (1)techniques of tsunami simulation, (2)study trip to Tohoku disaster-hit area with which we realized how destructive tsunami is and we gained some ideas about tsunami countermeasures and the way of mitigating tsunami damages, and (3)Toyota Plant visit through which I realized important tips for success.
After returning to Indonesia, first, I will update tsunami database in my organization by applying new methods I learnt in Japan. In addition, I strongly hope that organizations relating to tsunami warning can cooperate closely with one another, for example, by sharing and analyzing tsunami data.
December 27, 2011