New Delhi, August 06, 2021: The Delhi Metro Rail Corporation (DMRC) today flagged off the opening of the Trilokpuri section of the Pink Line for passenger operations under Delhi Metro Phase 3 Project funded by Japanese ODA loan through Japan International Cooperation Agency (JICA). With opening of this vital link, the Delhi Metro will connect the Mayur Vihar Pocket 1 and Trilokpuri - Sanjay Lake to facilitate a seamless travel.
Key highlights
The Pink Line now has become a single line, connecting Delhi's northern and eastern periphery with important and vibrant central parts of the city.
JICA is continuing to support Delhi Metro phase 4
Japan has contributed over INR 81,000 crore in ODA loans through JICA to establish metro rail systems in Delhi, Bengaluru, Kolkata, Chennai, Mumbai, and Ahmedabad.
The inauguration ceremony was conducted in the presence of dignitaries such as Hon'ble Minister of Housing and Urban Affairs, Government of India, Mr. Hardeep Singh Puri, Hon'ble Chief Minister of Delhi, Mr. Arvind Kejriwal, Managing Director, DMRC, Dr. Mangu Singh. The 59-kilometer Pink Line will now connect Delhi's northern and eastern periphery with important markets, hospitals, transportation hubs, and prominent residential areas in south and central parts of the city.
The Pink line to be extended from Majlis Park to Maujpur under the Phase 4 will become India's longest single Metro corridor of about 70 kilometres, and also only Ring Corridor of any Metro in the country.
Mr. ANDO Toshihide, Chargé d'affaires a.i., Embassy of Japan in India, delivered his celebrating speech in the ceremony, "The successful completion and commencement of the operations of the section are expected to have substantially positive impact on the intra-Delhi connectivity. With the completion of the Trilokpuri section, also marks almost the completion of the Japan's assisted Phase 3 of Delhi Metro Rail Project. I would like to express my sincere appreciation and congratulation again on this greatest achievement. It is our greatest honour that Japan has been the only foreign development partner of the Delhi Metro from its inception.".
Speaking on the occasion, Mr. Matsumoto Katsuo, Chief Representative, JICA India said, "We congratulate DMRC on the successful completion of and Trilokpuri section of the Pink Line. This is a remarkable achievement as the civil construction on this line continued despite obstacles caused due to the ongoing pandemic. Since the operation of Delhi Metro, a major reduction of carbon footprint of 4.4 million tons has been reported. DMRC's continued efforts in the field of clean energy, proactive response to COVID-19 have gained the desired results. JICA also appreciates the impact DMRC has laid on women's safety and empowerment. Keeping in mind that women tend to use public transport more than men, improvement in the public transport system has shown immediate positive results on the lives of women and therefore has increased their ratio in the labor market". The construction of the Trilokpuri section in the Pink Line was a challenge for DMRC because the work was frequently hindered due to the Covid-19 pandemic due to the persistent manpower shortages. Although the Pink Line started operation in 2019, this stretch near Trilokpuri got delayed due to a lack of unencumbered property. After satisfactory rehabilitation and resettlement of project affected persons followed by land acquisition, the seamless journey on the Pink Line is now made possible.
Since 1997, Japan has extended ODA loans through JICA of approximately 46,000 Crore INR for the Delhi Mass Rapid Transport System Project. Cumulatively, Japan has contributed over 1.3 trillion Japanese yen (roughly INR 81,000 crore) in ODA loans to establish metro rail systems in Delhi, Bengaluru, Kolkata, Chennai, Mumbai, and Ahmedabad in India.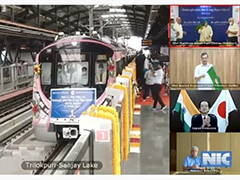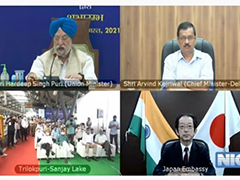 Official Link of Embassy of Japan
About JICA
Established, by a specific law, as an incorporated administrative institution under the Government of Japan, the Japan International Cooperation Agency (JICA) aims to contribute to the promotion of international cooperation, as a sole Japanese governmental agency in charge of ODA implementation. JICA is the world's largest bilateral donor agency. JICA works as a bridge between Japan and emerging countries, and provides assistance in forms of loan, grant and technical cooperation so that the emerging countries can strengthen their capabilities.
For further information, please contact:
JICA India Office
Shusaku Takada /Aishwarya Mishra
+91 11 49097000
Takada.Shusaku@jica.go.jp
Mishra-Aishwarya@jica.go.jp
Edelman India
Rakhi Aurora
+91 95990 67185
Rakhi.Aurora@edelman.com
Embassy of Japan in India
KIYOSE Kazuhiro
Kazuhiro.kiyose@mofa.go.jp