New Delhi, October 15, 2022: Under the aegis of Achhi Aadat campaign 2022, JICA India along with its implementation partner IJ Kakehashi Services Private Limited, conducted a series of events from October 7th to October 16th. The 10-day event was organised to commemorate Global Handwashing Day, which is celebrated globally on October 15th.
The celebration started at the MUJI Store in Select CITYWALK Mall with the display of various videos, Information, Education and Communication (IEC) materials and hygiene products. The Achhi Aadat Corner is at the store until October 16th. To involve the community and children for instilling the correct way of handwashing and hand hygiene, a four-day carnival was held from October 11th to 14th. Activities such as street-plays, street rallies, and handwash demonstrations were organized in 4 days.
A grand event with the support of Directorate of Education, Government of NCT of Delhi was held for 200 children of Veer Savarkar Sarvodaya Kanya Vidyalaya, Kalkaji, New Delhi. Mr. Himanshu Gupta, Director of Education, Delhi; Mr. WATANABE Jun, Senior Representative of JICA India, and senior officials of Directorate of Education and IJ Kakehashi attended the event. They conducted a fun filled session with children to sensitize them about the importance of hand hygiene. Fukuoka Prefectural Government of Japan which has a 15-year long relationship through a friendship exchange agreement with Government of NCT of Delhi also supported the event.
Apart from school children performing handwashing musical performance on stage, the participants enjoyed videos of Achhi Aadat Campaign, portable handwashing stations SATO Tap, Hello Kitty, and Fukuoka prefecture introduction. NGO Jamghat, the partner for spreading Achhi Aadat Campaign to communities in Delhi, performed a fun and informative play.
Speaking on the occasion, Shri Himanshu Gupta, IAS, Director of Education, Delhi said, "I am delighted to see the successful collaboration between JICA India and the Directorate of Education, to celebrate Global Handwashing Day as a part of JICA India's Achhi Aadat Campaign. Government of NCT of Delhi also has a Friendship Exchange Agreement with Fukuoka Prefectural Government, which has also successfully supported this pathbreaking campaign. I was impressed to see the celebrations held at the Veer Savarkar Sarvodaya Kanya Vidyalaya, Kalkaji, where the children enjoyed audio visual content of Hello Kitty handwashing, Nail Hygiene and Kumamon videos. This was an interesting way to combine learning with fun to drive home an important message among children."
Speaking on the occasion, Mr. WATANABE Jun, Senior Representative of JICA said, "Handwashing is a powerful tool which can prevent not only diarrhea and COVID-19 but also other infectious diseases. While handwashing is a simple practice, you must do it in a proper way for maximum benefits. Through the various sessions of our event, the children learnt a step-by-step guide on how to wash their hands. I hope that they will become "Masters" of handwashing and start practicing it from today onwards to make it a good habit, or Achhi Aadat."
14 year old Laxmi, a Class 9th student, who participated in the three-day event by Jamghat at Shanti Van, Delhi, said, "I took part in all the events of the three-day GHD carnival week, including street play, rally and the handwashing demonstration activities and learnt about correct way of handwashing and hand hygiene with soap. Joining rallies made me realize the importance of spreading awareness about hand hygiene. By participating in these activities, I think I have contributed to the community at large."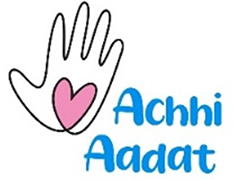 About Achhi Aadat Campaign
In 2021, Japan International Cooperation Agency (JICA) launched the Achhi Aadat Campaign to spread various hygienic practices among the population in India. Amid Covid 19 situation, the campaign encouraged consistent and appropriate handwashing techniques, nail cleaning, and other hygiene practices.
In continuation this year, in 2022, JICA in partnership with its project implementing partner IJ Kakehashi, collaborates with the Government of NCT of Delhi, and private Japanese companies, NGOs, and has flagged off the wonderful voyage to create awareness among people of India.
The campaign aims at reaching its target of more than 35 million people this year. In this journey, JICA with its partners carries out such activities as two months-long carnivals of street plays, distributions of sanitation items, campaigns in schools, celebrating Global Handwashing week and 4 days long program, promotion through Auto panel branding, and social media and mid-media campaigns.
About JICA
Established, by a specific law, as an incorporated administrative, as the sole Japanese governmental agency in charge of ODA implementation. JICA is the world's largest bilateral donor agency. JICA works as a bridge between Japan and emerging countries like India and provides assistance in the forms of loans, grants, and technical cooperation so that emerging countries can strengthen their capabilities.
For further information, please contact:
JICA India Office
Shusaku Takada / Aishwarya Mishra
+91 11 49097000
Takada.Shusaku@jica.go.jp
Mishra-Aishwarya@jica.go.jp
Edelman India
Rakhi Aurora Sachdeva
(+91) 9599067185
Rakhi.Aurora@edelman.com
Event at Veer Savarkar Sarvodaya Kanya Vidyalaya on October 14, 2022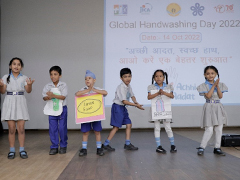 Performance by the students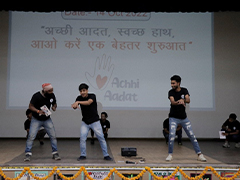 Performance by NGO Jamghat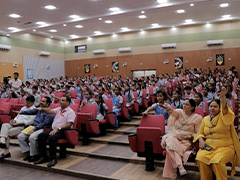 Participants taking Achhi Aadat Pledge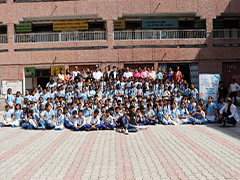 Participants and the organisers