Dehradun, December 20: Japan International Cooperation Agency (JICA) has inaugurated the Uttarakhand Integrated Horticulture Development Project, today in Dehradun. Dignitaries such as Hon'ble Chief Minister, Govt of Uttarakhand, Shri Pushkar Singh Dhami, Hon'ble Minister, Agriculture & Farmers Welfare, Shri Ganesh Joshi, Hon'ble Minister, Finance, Shri Prem Chand Aggarwal and Secretary, Agriculture and Farmers Welfare cum Chief project Director(UKIHDP), Dr. B.V.R.C Purushottam were present at the ceremony, along with Mr. Jun Watanabe, Senior Representative, JICA India, along with dignitaries from Government of India and department of horticulture and food processing.
In March 2022, JICA had signed a loan agreement with the Government of India to provide Japanese Official Development Assistance (ODA) loan amounting to JPY 6,401 million (approximately INR 413 crores) for this project. Consistent with India's development issues and policies as well as the cooperation policy and analysis of Japan and JICA, the project will contribute to promote profitable horticulture and improve farmer's income in the four target districts covered under the Project.
As Uttarakhand is a predominantly hilly terrain, it has small and fragmented landholdings and irrigation facilities are not developed properly. The objective is to promote profitable horticulture and improve farmer's income by infrastructure development and capacity development for production, processing, and marketing of horticulture crops, thereby contributing to economic and social development in the state.
This project focuses on service delivery and improvement in sustainable manner through transfer of technology and supply of quality planting material to the farmers.
Speaking on the occasion, Mr. SAITO Mitsunori, Chief Representative, JICA India said, "JICA is elated to inaugurate the Uttarakhand Integrated Horticulture Development Project in partnership with the Department of Horticulture. We are confident that this project will help farmers in the state overcome the existing challenges such as lack of access to services including water, technology and agricultural input and insufficient marketing facilities. At the same time, it will help them increase the productivity of the existing cultivated area as well as add value to their produces. More importantly, it will deliver on the Government of India's commitment to boost the agricultural / horticulture development in the country.
Farmers will be empowered through 1) trainings and technology dissemination, with demonstrations for skill development, 2) institutional development of FPO (Farmer Producer Organisations), 3) capacity building of FPO, 4) creating managerial cadres for supply chain management of fruits, vegetables, spices etc., 5) establishment of centers of excellence showcasing hi-tech cultivation of fruits and vegetables, 6) rejuvenation of senile plantation, and 7) provide support to farmers for adoption of sustainable organic horticulture practices. Climate change adaptation measures shall also be strategically promoted via this project.
This Project is considered to contribute to the achievement of Goal 1 (No Poverty), Goal 2 (Zero Hunger), Goal 8 (Decent Work and Economic Growth), and Goal 13 (Climate Action) of the SDGs.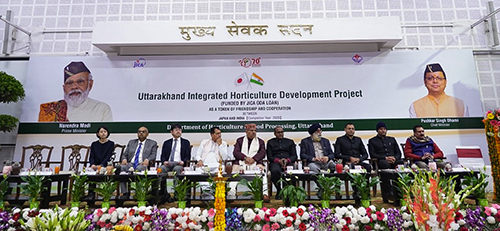 About JICA
Established, by a specific law, as an incorporated administrative, as the sole Japanese governmental agency in charge of ODA implementation. JICA is the world's largest bilateral donor agency. JICA works as a bridge between Japan and emerging countries like India and provides assistance in the forms of loans, grants, and technical cooperation so that emerging countries can strengthen their capabilities.
For further information, please contact:
JICA India Office
Shusaku Takada / Aishwarya Mishra
+91 11 49097000
Edelman India
Rakhi Aurora
(+91) 9599067185